TomTom Spark 3 GPS Fitness Watch
TomTom
Price $249 U.S.
The Spark 3, like its predecessors in TomTom's lineup of sports-oriented fitness watches, enables the user to monitor heart rate, speed, distance and similar metrics for a variety of activities. The user selects from a list of sports such as swimming, cycling, running on trails and running on a treadmill.
TomTom adds features to each new product release. The Spark, predecessor to the Spark 3, enabled the user to upload 3GB of music (about 500 songs) and listen through an included set of Bluetooth earphones. The Spark 3 goes a bit further, including an easy to read compass and a mapping feature that creates a basic map. When activated, the mapping features creates a tiny graphic showing the route you just covered, the distance, and true North. You can also upload routes as GPS files available on the Internet.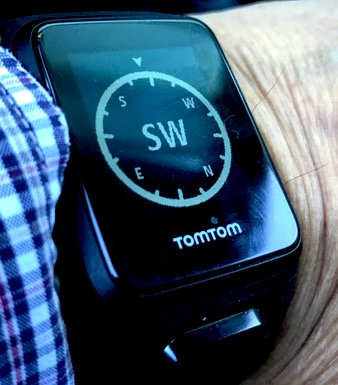 Some of these new features were overkill for me because I typically cycle on four or five dedicated bike paths that are well marked. For a runner who wants to explore trails in a forest, the map feature can help you find your way back to your starting point using a "breadcrumb trail." Breadcrumb trails allow you to see an overview of your route and understand the steps necessary to get back to your starting point.
The breadcrumb trail shows:
1. Your current GPS position with a chevron in the center of the screen.
2. Your starting point with a home icon.
3. An arrow that tells you which direction you are facing when standing still and which direction you are headed when moving.
4. By pressing the right navigation button on the watch, you can switch between a detailed view and an overview depending on the total length of the breadcrumb trail.
All of the TomTom watches enable the user to select the type of exercise to monitor – swimming, cycling, running, or freestyle if you're just walking around. You can also set it to monitor the number of hours you sleep.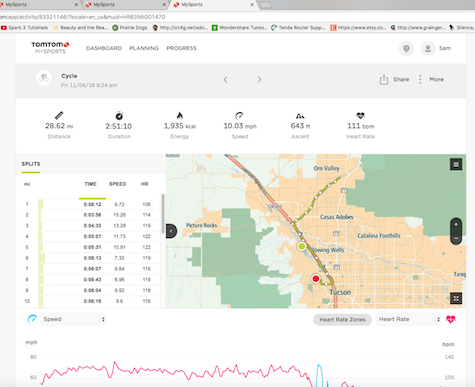 At the end of an activity, connect the watch to a computer and it will bring up TomTom's My Sports app, which reports the distance you covered, the amount of time you exercised, your average heart rate (in beats per minute) and the number of calories burned. The app breaks down your exercise into five categories: Easy, Fat Burn, Endure, Speed, and Sprint. The heart rates applied to each category are based on the personal information, such as age, weight, gender, that you enter in Settings.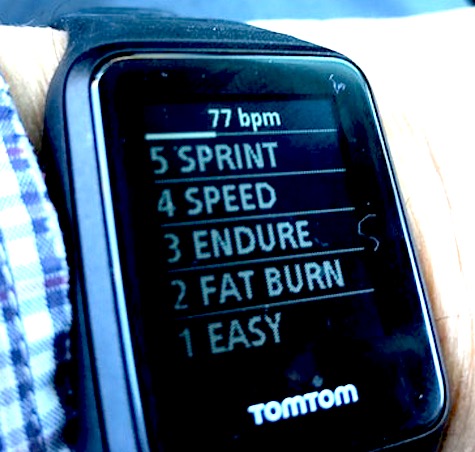 TomTom's menu system is consistent among all its fitness watches but if you haven't used one before, you'll encounter a learning curve that to some people may seem cumbersome.
TomTom lessens the pain in three ways. First, a detailed user guide is available online. Second, a group of YouTube videos illustrating various tasks is available. Third, if all else fails, TomTom's tech support, reachable through its website, is excellent.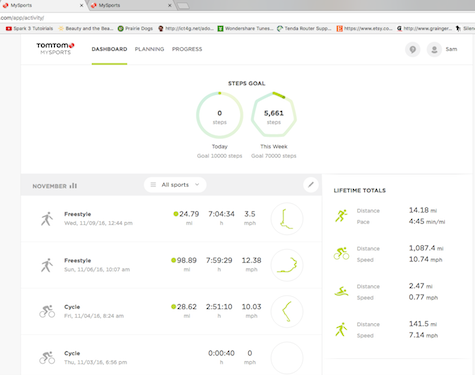 For fitness folks who prefer to see their exercise statistics online, TomTom includes a Share button in its My Sports app that enables you to upload data to the popular Strava website. I find the My Sports app perfectly adequate and have no need for Strava. The My Sports user interface is clean and gives me all the information I want, including the map of my route with a breakdown of my heart rate and speed at waypoints along the route.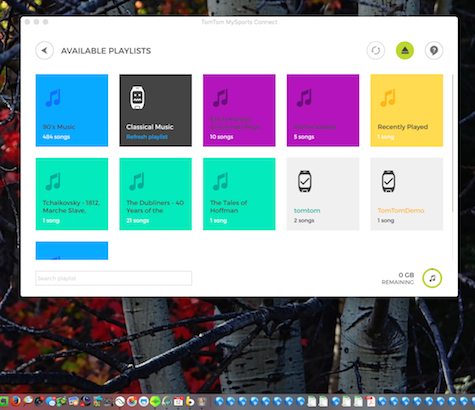 If you upload playlists or songs to the Spark 3, you can change tracks from the phone's display, but volume can only be changed from the earphones. The earphones paired easily with both the Spark 3 and my iPhone when I used it with Pandora or Slacker Radio. Simply press the UP button on the watch and it will pair with the earphones. To pair with an iPhone, go to Settings on the phone, turn Bluetooth on, press and hold the earphone power button for a few seconds until TT appears in the device list on the phone.
The TomTom Spark 3 is reliable and is fun to use. Highly recommended.
MyMac Review rating is 9 out of 10.