Powered USB-C Docks from OWCÂ and StarTech
OWC USB-C Dock
Other World Computing
$149 U.S.
Apple's newest MacBooks have only one multipurpose USB-C port. Other World Computing (OWC) has an affordable, versatile solution to expand usage to include USB-3, HDMI, audio out, SD card, Ethernet, and a second USB-C port. Buy the OWC USB-C Dock and put it into action today. It will make your computing life more efficient, enjoyable, and productive, especially when at a fixed location. This dock is compact enough to be usable also when traveling. Thanks, OWC!
OWC offers four different color choices for the outer metal frame, to match the four colors available in Apple's new stylish MacBook lineup. The physical product is substantial and solid, is constructed from metal and durable plastic, is roughly one inch high, and is (like its competitor below) a bit longer than an adult male hand with fingers together. Black rubber corner blobs keep the dock in place on a table or desk.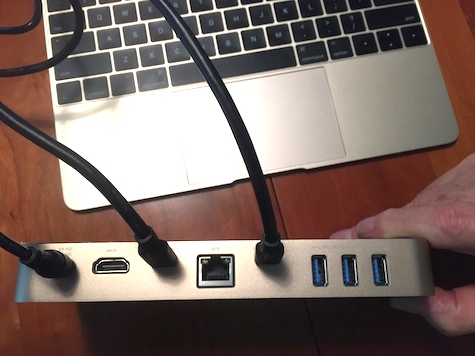 The front face has the SD card slot, combo audio headphone and microphone port, and high-powered USB-3 port. The rear has another high-powered USB-3 port plus two standard USB-3 ports, two USB-C ports, one each Ethernet and HDMI port, plus the port for the power unit. The bottom front has one each LED for poet and active data. One short USB-C cable and one USA power plug cable is provided, versus the four international plugs in the dock described below.
A slim, thorough written manual in English is included, with troubleshooting and technical support information. OWC has outstanding support and customer service before and after purchase.
I commando-tested the OWC USB-C Dock with an unsuspecting MacBook owner, and he was so impressed he ordered one immediately. He uses it daily when in his home office. I asked him what rating we should give out of a maximum of 10. "How about 11," he said, with a smile.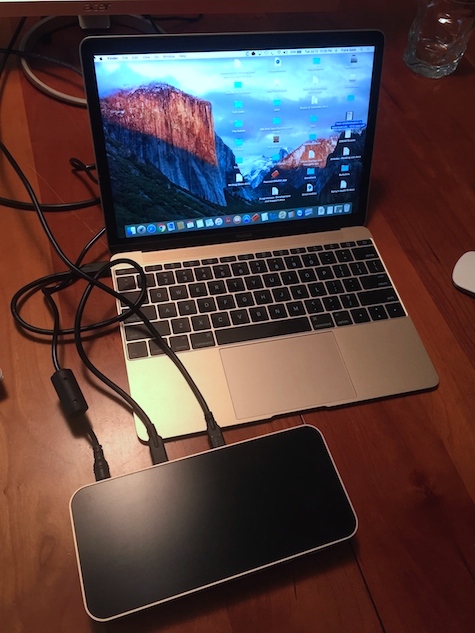 Outstanding product, Other World Computing. Our MyMac Review Rating is a perfect 10 out of 10. The typical MacBook owner will love it.
---
USB-C Dual Monitor Docking Station with Power Delivery
$238 U.S.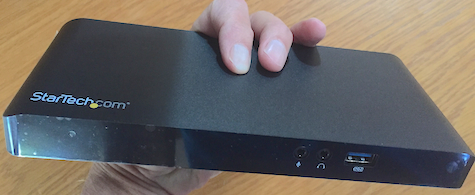 The first reaction upon unboxing StarTech's USB-C Dual Monitor Docking Station with Power Delivery is Where is the dock? The large upper compartment in the product box has cables for four different type of international AC wall plugs (North America, Europe, United Kingdom, and Australia), plus a power brick and a USB-C host cable. The dock component is hidden underneath a divider partition, so there is no need for alarm.
This dock is lightweight plastic, a bit longer than an adult male hand with fingers together, and it has four rubber corner blobs on the bottom to keep the dock in place on a desk or table. The front face has a small LED activity light, a USB-3 port, an audio out or headphone port, and an audio in microphone port.

The main event takes place using the rear face, with two USB-C and USB-3 ports, plus one port each for power in, Ethernet, HDMI, and DisplayPort (non-Apple). One of the USB-C ports can be used to deliver power to your MacBook or other computer that uses USB-C. Two monitors can be connected and viewed, and the variety of onboard ports will accommodate most modern display connections.
Special drivers are required for this dock to function fully. The company provides instructions to help you obtain and install them. You will need at least one latest generation display to have a two monitor setup. I can recommend this one, reviewed recently, with its included USB-C, HDMI, and DisplayPort and appropriate cables.
This dock is able to deliver 4K video when only a single HDMI monitor is being used, and up to 1920 x 1200 pixels at 60Hz when two monitors are active. You can contact StarTech support before or after purchasing their USB-C Dual Monitor Docking Station with Power Delivery to make sure your monitors are compatible, especially for two displays. Note: there is no VGA display port.
Even without a second display, this dock turns your MacBook into a real computer with audio ports, USB-3, Ethernet, and a second USB-C port. Eventually every user of a MacBook that has only a single USB-C port will be overjoyed to add so much functionality to the computer's bare bones lone output.
StarTech's dedicated web site for this product has thorough information and specs, plus additional useful links.
MyMac Review Rating is 8 out of 10.