Voom 20 portable Bluetooth or wired waterproof speaker — User Report Review
VAVA
U.S. buying link
$80 U.S.
VAVA Voom 20 is the best name ever for a speaker, and it lives up to its name. It's an excellent go everywhere play everything portable speaker. Music sounds really good, television audio sounds great, and audiobooks sound outstanding. Design and construction are stylish and minimalist, in addition to being rugged and practical.
Maximum volume is loud without distortion. Sonic delivery is balanced and complete at all listening levels. Bass is substantial without booming or chugging, and midrange through treble are clear and lucid without any irritants or clipping.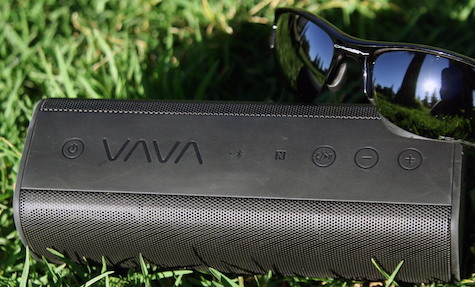 Top deck controls are almost invisible to the eye but are easy to feel with your fingers: power, volume up, volume down, and play/pause. LED illumination is limited to tiny white spots with multiple uses: power/charging, and Bluetooth/top volume. Two different wireless Bluetooth sources can pair and alternate playback.
You can use Voom 20 for playback during charging. You can take it into the shower or outdoors in wet weather. You can charge a low-capacity USB device with its internal 5200 mAh battery. You can play it either wirelessly or using an included cable. You can use it as a speakerphone. You can read several glowing raves on its Amazon reviews pages. You can awe and confuse your music loving friends and family who will say: "Where's the big sound coming from? You mean that little black speaker? Not possible."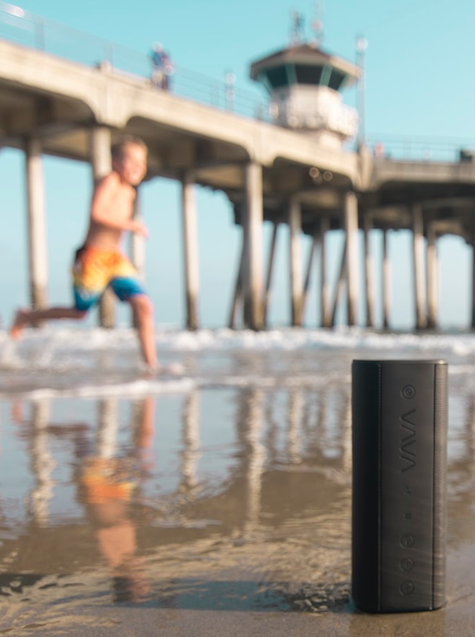 I own a lot of speakers, and I have reviewed dozens more. VAVA Voom 20 is the best compact, wireless, portable, multipurpose one-piece speaker I have used, and it's splash proof as a bonus. Even better, it passes Mrs. Nemo's demanding test, now that she insists: Let's use that new little black speaker, John. I really like it.
On any rating system that includes quality, style, construction, and affordability, Voom 20 will be a proud winner. My only suggestion to make it perfect is to have the recessed controls on top illuminated, because in a dark room they are not convenient to locate and press.
---
The VAVA company representative explains to MyMac:Â 
Our product designer wants to create the Voom 20 in a very elegant way, as a product that just feels good holding it in your hands. In terms of colors and not being able to see the controls, I think what we want to achieve in this first version is the uniformity to the same color throughout. Black is an elegant color that fits many different environments and ambiances. Folks have already given us great feedback and testimonial on the product design and look & feel. Perhaps we will consider creating the Voom 20 in different colors down the line.
We are currently sold exclusively on Amazon only. We are also in Amazon UK. And we are considering to have the Voom 20 available in other Amazon marketplaces in the future.
We provide equally great sound, if not better, than the Bose/JBL/Beats speakers of its same class, but we pass on the cost savings to the customers, therefore the Voom 20 provides great sound yet at much more affordable price!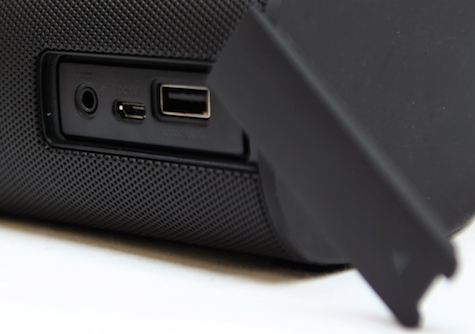 It is okay to leave the charging cable on overnight if necessary. There is auto shut-off functionality to battery charging, so it will not over charge when it's fully charged, it will just shut off charging automatically.
You may not want to wait until its totally discharged to start charging, because you won't be able to play music unless you have it start charging again.
If you press the volume + button, you will know you are hitting the max volume when the LED light button starts blinking. Â I believe its 15 levels (since I can press the button 15 times before it starts blinking).
The sound is equally great whether if its standing or sitting. Â Again, I think this is more of a aesthetics perspective/preference?
It's IPX5, so it's not completely water-proof. You can't dunk it/submerge it completely in water (then again, who would).  It's water resistant/splash proof.
---
YouTube video by an enthusiastic reviewer
---
MyMac Review Rating is 9 out of 10, with Nemo's personal recommendation.