Create Keyboard Case for 9.7" iPad Pro
Manufacturer: Logitech
MSRP: $130.00
The 9.7 inch iPad Pro turns out to be the right size for many users and Logitech has just released a keyboard case for it. There's a lot to like here, but the best feature is the Smart Connector. The keyboard doesn't need to be charged, it is powered by your iPad. Open the case, snap the screen into its magnetic groove, and you're connected. The backlit keys light up letting you know you're ready to roll.

Magnets lock the iPad Pro in its upright position and also assures that the three Smart Connector pins are aligned. It's through these pins that power passes to the keyboard and all your keypresses pass back to your iPad. It seems magical. Bonus: there is no need for Bluetooth connectivity or pairing.
The sturdy case is covered with tough woven nylon that feels good in your hand. There are appropriate cutouts for the speakers, the camera lens, and controls that the case covers. Its overall size is only a bit larger than the iPad but it is significantly thicker—nearly an inch (23mm).
The satin-finish keys are ever so slightly dished. They feel familiar and comfortable, unlike those on Apple's iPad keyboard case that costs $20 more. Key travel is similar to a Mac laptop. The width of the keyboard is 9-1/2 inches (24CM). This is smaller than a laptop configuration but it works well for me. Along the top of the keyboard is a row of fourteen iOS shortcut keys. All of the usual ones are there including a few extras—a Home button, a Lock button, and two that control key backlighting. I'm pleased to see some of the Mac keys here. Being able to type Command-Tab to switch between open apps without leaving the keyboard is convenient and Mac-like.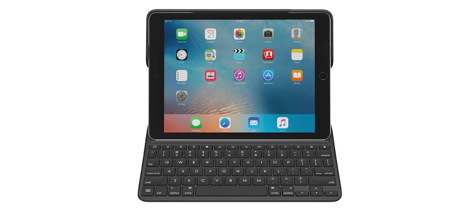 There is a convenient cuff for an Apple Pencil located behind the iPad when it is standing in its typing position. The fifty degree screen angle seems about right to me. That's fortunate, because there are no other choices.
With this Create keyboard case on your 9.7 inch iPad Pro you can honestly consider leaving your laptop behind from time-to-time. You'll be able to accomplish most of your usual computing tasks with it. Of course, if you use Mac applications that require heavy-lifting, you'll have to postpone those until you get home. But for the rest of us, it's liberating.

There are a few compromises that you must be prepared to make. First is weight. The iPad Pro in the keyboard case weighs just under two pounds (.88kg). That's a significant increase over the iPad alone, but it's still a bit lighter than a MacBook. There is also a certain clumsiness when holding the iPad with the cover folded back. If you intend to do some serious reading on the couch, removing the cover completely is an easy fix.
MyMac Review rating is 9 out of 10.