Piston Classic In- Ear Headphones
Company:Â 1 More
Price: $20 U.S.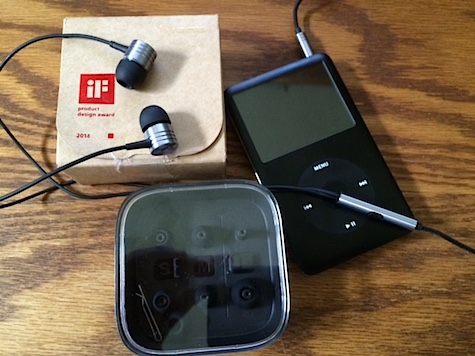 In the dizzying world of audio accessories, price is not always a good indicator of quality. These Piston Classic In-Ear Headphones from 1More are a remarkable buy for only $20. I have famous brand over-the-ear headphones that cost nearly 20 times that much and don't sound as clean and pleasing as the attractive Piston Classics.
Not being an audio engineer, I confess that a lot the specifications listed on the box are incomprehensible. But I do trust my ears. After many years of testing various earphones, what is perfectly clear is is that some headphones sound harsh, metallic, distorted and just plain uncomfortable. After I read all the technical stuff that I don't understand, I listen and trust my ears to tell me if the earphones are any good.
In its promotional material, 1More says the Piston Classic earphones "were tuned by internationally acclaimed sound engineer Luca Bignardi to perfect the final tuning to deliver a precise representation of your favorite artist's intended sound." I can't tell you a thing about Luca Bignardi but he must be doing something right. I listen to a wide variety of music, including classical, opera, folk and pop.
No matter what I play, the Piston Classic delivers truly clear fidelity, excellent separation and a modest bass response, which I prefer. I have no idea how these would perform with Rap or Punk or more popular genres, but if you're looking for thumping bass you may want to look elsewhere.
I usually avoid writing about the way a product is packaged, but the brown cardboard cube for the Piston Classics must have been designed by an origami artist, because it's a model of simplicity and tactile elegance.
My only complaint about these earphones and others by 1More is the L and R markings, which are black on black wire housing below the speakers. I needed a magnifying glass to figure out which was right and left. Minimalism is fine in some circumstances, but we shouldn't have to struggle with something as simple as earphones.
In any case, the Piston Classic is a terrific value and IÂ recommend it highly.
MyMac Review Rating is 9 out of 10.