BUOY Portable Wireless Waterproof, Sandproof, Shockproof Speaker — first listen and look preview — Nemo Memo
Magtunes
$99 U.S. plus shipping
See link above for early bird discounts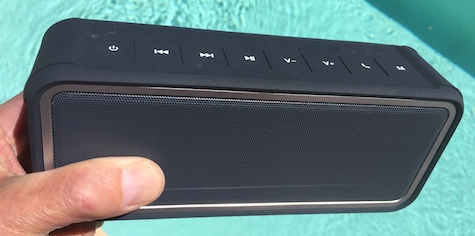 Wow! That is the one word response people have when hearing and seeing BUOY from Magtunes, a new Australian company. This small, go-everywhere, wireless Bluetooth speaker is loaded with features and functionality, including both AUX-in and micro-SD inputs. With its low price and high sound quality and long battery life and big audio presence, this junior-sized wonder will have your friends dancing past midnight and your neighbors calling the police to get you turn the #%&* music down.
Going camping? To the beach? Or a picnic and pool party? Take BUOY with you. It's weatherproof and waterproof, but please make sure the rear rubber silicone mini-door is fully closed when you are in the surf or the shower.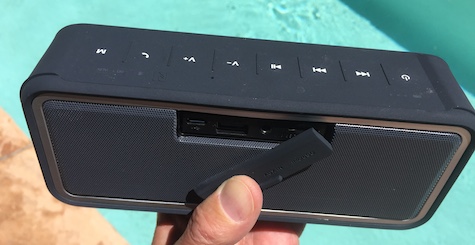 Spend a few minutes watching the demo videos plus photo gallery, and reading the product information and specs on the promotional site at the link above. BUOY can also work as a handy speakerphone and as a portable USB power source.
I played two hours of streaming tunes from Deezer yesterday afternoon while Mrs. Nemo and I were gardening and using the swimming pool. Next I took BUOY into the shower. Then we listened while preparing dinner, for a total of over four hours of continuous Bluetooth wireless playback without making a dent in BUOY's battery capacity. The sound quality is good at low audio levels, and it gets much better as the volume goes up. And it gets very loud.
When a speaker conveys familiar music in a fresh and exciting new way, I am impressed. My four top tracks from those hours of streaming music surprised me, because they had some tough competition. From first to fourth, they are: Suite: Judy Blue Eyes by Crosby, Still, and Nash; Crying by Don McLean; White Rabbit by Jefferson Airplane; and You Can Call Me Al by Paul Simon. I had never heard Don's version of the Roy Orbison classic, and I hadn't listened to White Rabbit in ages. All four of them are still running in my head (not all at once, fortunately).
Our friend Linette has been in the pool while I'm writing these comments. She requested the band U2, so I fired up Deezer and played a best-of mix from their albums while she swam and did water aerobics. Her spontaneous comments are: "Amazing. Incredible. It's so crisp. I want it! A big sound in a little box. Perfect for my water exercises."
BUOY has full instructions for every feature and function. It comes in two sizes, as you will see on the promotional web site. I did this first-listen-and-look preview using a prototype of the standard size. We will have full MyMac coverage after we receive the final shipping products. I expect this Big Sound from Down Under to make a big splash worldwide once the word gets out. Wow again.