Who are the people behind the technology that we love so much? We know the products, the websites, the online personalities but we want to learn more! 
Every week here at MyMac.com, we will spotlight a company, developer or person that supports Apple users by creating solutions or entertainment for the Mac, iPhone, iPad, Apple Watch, Apple TV and other platforms we all use and love by asking them to answer seven questions.
This week, we turn our attention to Peter Skinner from Ten One Design

1 – How did you get your start in technology?
I first felt connected to technology in college when I began modifying synthesizer keyboards to expand their sonic range.  As a budding electrical engineer, I didn't know exactly what I was doing, but the experimental aspect was all part of the fun.
2 – What is your favorite computer of all time?
This 2012 MacBook Pro I'm using.  It felt like the future in 2012, and it still puts in a shift almost four years later.
3 – Tell us about your latest product 
Blockhead was a big hit for us.  It turns your MacBook charger sideways so it fits in more places.  I had been using it around the house for the last year, and it's been wonderful for me.  This time, to our surprise, the idea really resonated with others as well.  tenonedesign.com/blockhead.php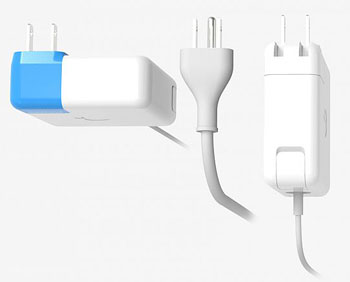 4 – What was your first job?
Working in a machine shop at a government research facility.  We made experimental agricultural tools to help fruit farms operate more efficiently.  It sounds pretty out there, but one machine was a robot that rolled down a row of apple trees, identified a strong branch using machine vision, and smashed into it with a hydraulic arm to knock the apples into a harvesting bin.  It didn't always work.
5 – What advice would you give to younger people just getting into technology?
No matter what your area of interest, also learn to code. Â It invites a deeper understanding of what lies beneath.
6 – Who was your inspiration? 
Can it be a clock radio? Â Not so much the industrial design of the clock, but the inside. Â It was full of single-sided circuit boards, through-hole components, and inexpensive assembly techniques. Â Yet the product was functional, reliable, inexpensive, and to me, a little bit beautiful.
7 – Where can people follow you online, and what is your website?
Twitter: @psidentity
Website: tenonedesign.com