ATH-ANC40BT QuietPoint Active Noise-Canceling Wireless In-Ear Headphone
Audio-Technica
$180 U.S. MSRP —Internet pricing may be lower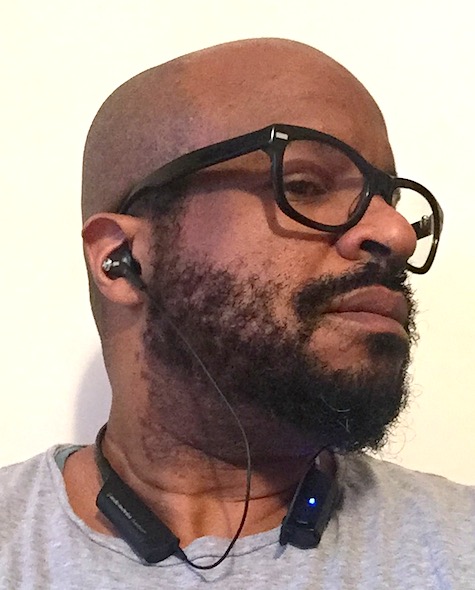 ATH-ANC40BT is Audio-Techica's only noise-canceling wireless in-ear headphone. Their QuietPoint technology claims to reduce environmental noise by 90 percent. It runs on Bluetooth 3 and can connect to two devices simultaneously and can remember up to eight devices. Estimated battery life is eight hours with Bluetooth and noise-canceling activated, 13 with just Bluetooth, 24 for just noise-canceling, and 100 hours standby time.
I'll start right off and say I am not a fan of the design of these headphones. They follow the familiar design of many Bluetooth headphones in which the main components are in two "neckbuds" that wrap around your neck and lay on top of your clavicle. All of the controls are found in the left neckbud: on/off button, noise cancellation button, volume control, play/pause, charging port, and microphone. When it comes to the aforementioned neckbuds I guess I am ready for the future now.
Audio-Technics is packing a lot of technology in a pretty small package, but for me I would rather skip on some to reduce the whole footprint. I have a pair of Beats Powerbeats in-ear headphones that manage to get everything in the earbuds except for a one small controller. That's my favorite format for wireless headphones, so I would probably like the ATH-SPORT4BK sport headphones more than these. See Ian's recent review here.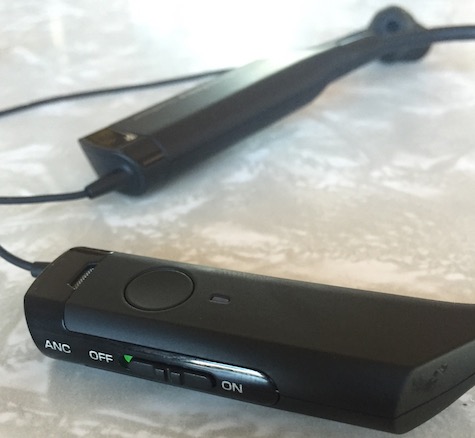 This design also has an innate annoyance. I received these headphone in January, while in Chicago we were obviously still deep in our winter. When wearing these the first time while making my commute they kept turning on and off. I thought that they were defective, and what I found out was that when wearing the neckbuds underneath my down jacket the pressure was enough to press the play/pause button. To have uninterrupted play while wearing my coat I had to unzip it a bit to relieve the pressure. Having your coat open in the middle of Chicago winter is not an ideal situation — I'll just say that.
The shape of the actual earbud is a little strange at first glance, but provides a snug, comfortable fit without too much weight or pressure. I was able to wear them for long stretches of time with little to no fatigue.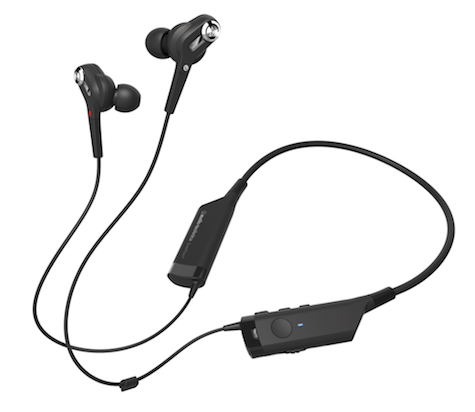 I've been a huge fan of Audio-Technica headphones sound quality for quite some time and this offering does not disappoint. They provide a clear, noise free response even at high volumes. I'm not sure if it's a result of the noise-canceling or the headphones themselves but the sound reproduction is a little on the thin side. The low end isn't very powerful, especially if you're used to a Beats style sound reproduction. I think this isn't something that should keep you from purchasing but it is something that should be known while doing research.
The noise-canceling isn't really providing 90 noise reduction, but provides enough of the optimum kind of noise reduction. HVAC, airplane, bus, and train noises are sufficiently reduced to eliminate distraction. There is no discernible change in the sound quality with noise canceling on, which to me a much better mark to look for in this technology.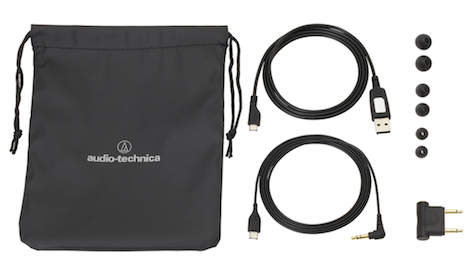 The battery life is outstanding. I didn't do any strict testing to see if their battery claims live up. I can say that I was able to use them for over a week during commutes, approximately an hour to 75 minutes a day, without recharging. This package also comes with a travel bag, USB charging cable, airplane audio adapter, USB to analog audio cable, and four sizes of ear tips. All of these accessories fit inside the travel bag easily, which makes these great travel headphones.
Overall theses are another quality offering from Audio-Technica. The bulk of my complaints about these are purely personal preference. The most critical issue to consider is the weakness in the low end, and even that may fall into your range of preference if you are not a booming bass person. These are definitely recommended travel headphones and can be a versatile set of commuter headphones.
MyMac Review Rating is 7 out of 10.