H277HU Display for USB-C and HDMI
Acer
$500 U.S.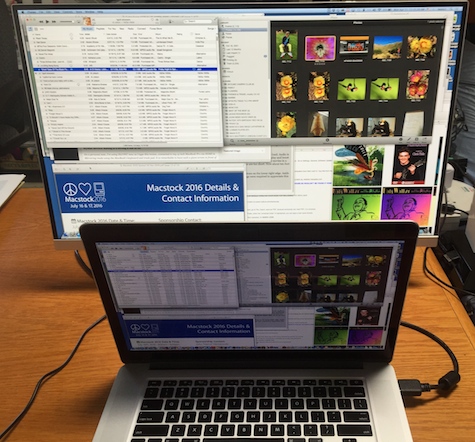 The future has arrived. USB-C ports are here to stay. Acer's impressive new H277HU Display for USB-C and HDMI solves several problems and leaves only one or two unanswered. Owners of Apple's diminutive 12 inch MacBook can use this external display for accurate enlargement of their built in visual content. All other computers and devices with HDMI ports are welcome also.
Why does this monitor cost $500? Because is it very good, extremely light weight, has a super slim profile and front frame, and is first to market with the USB-C port. Early adopters will enjoy using it without having to wait for price drops and copycats.
In my focus group comparison tests, the H277HU equalled prior-generations of Apple Cinema Displays and won easily over HP screens. People were most impressed with the color saturation, matte screen, borderless frame, full viewing angle, physical product, and lack of bulk or mass on the unit. They were delighted with the pair of USB-3 ports on the rear that enable charging and powering additional equipment.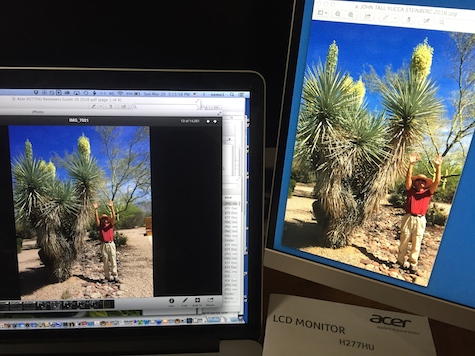 Acer display on the right; Apple Retina Display on the left
Colors, black, and whites appear slightly different than on Apple displays, but you will become accustomed to Acer's look and feel within a couple of days. Photos are rich and vibrant. Movies look good too. We tested both HDMI and USB-C versions of content, all with viewer satisfaction.
Stereo music separation is surprisingly enjoyable. My best test track is Short Tales Of The Black Forest, from Friday Night in San Francisco, with a guitar trio of Al Di Meola, John McLaughlin, and Paco de Lucia. Splendid music!
What's the problem? It's too quiet. For $500 the speakers should be about ten times as loud. Audio is crisp and clear, but only for personal watching and listening. Acer can improve this display and boost its sales potential by adding sonic oomph. This product is visually good enough to show movies in a small room; it should have sound to match. And the included cables are too short. How about ten foot cables, please?
Full manual on-screen controls are activated by pressing small buttons on the lower right edge. Aside from turning the volume all the way up, none of the detailed settings were required to appreciate this very good external monitor.
MyMac Review Rating is a strong 8 out of 10.
On a personal note, I'm using H277HU now as I type this review, connected to my 15 inch MacBook Pro via HDMI in Mirroring mode using the MacBook's keyboard and track pad. It is remarkable to have such a giant screen in front of me at optimum eye level, instead of looking down to the laptop Mac's screen when it's placed on a table. I have a zillion windows open and I can see them without having constantly to snoop around.
Bonus: our friends at TidBITS just posted a detailed review with additional photos.