iHome Fit Wireless Bluetooth Earphones iB73
iHome
$79.99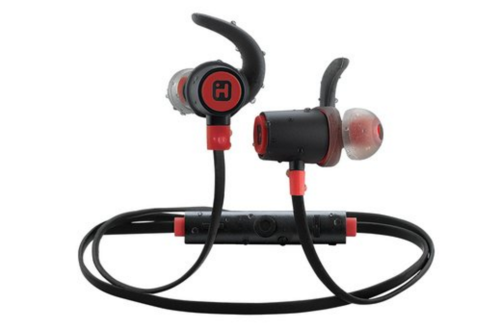 I listen to podcasts when I'm working out at the gym. I have a pair of earphones that I really like; however, the cord is always getting in the way. Wireless Bluetooth solutions I've tried usually fell out after a few minutes or were uncomfortable. I was offered the opportunity to test the iHome Fit Wireless Bluetooth Earphones, and I'm so glad I did. These are now my go-to earphones.
The iHome Fit Wireless Bluetooth Earphones (iHome Earphones) are water resistant and sweat proof, making them perfect for athletic activity. More importantly, they stay put. When I'm at the gym, I'm on the floor working my abs, meaning, I'm either laying on my back or assuming the plank position. On the treadmill I'll occasionally run a rapid 5 mph for about one minute. In all cases, the iHome Earphones never shake loose or feel like they'll fall out. That's a huge plus.
Three different sized silicon ear cushions, as well as stabilizer fins are included with the iHome Earphones for a perfect fit. Two over the ear hooks are also provided if users want or need to feel more secure that their earphones will stay in place. I didn't test the ear hooks since I felt very comfortable using the earphones without them. I like how the stabilizer fins and over ear hooks are marked L and R to make sure they are placed properly on the earphones.
Calls on the iHome Earphones sound a bit muffled, but are fine for short conversations. My caller said I sounded a little distant, which makes sense since the microphone is behind my ear.
Take some time to study the function chart in the enclosed User Manual. Two cool features are last number redial and transferring the call from the earphones to the phone. Adjusting volume, skipping tracks, answering and declining calls are all done with three buttons on the cord. I'm still getting used to "short press" or "press and hold" for the function I want.
A voice prompt lets you know when pairing is complete, when you're at minimum or maximum volume, and when the battery needs recharging. Not an essential feature, but a nice touch anyway.
All pieces for the iHome Earphones are conveniently contained in a small pouch that can be tossed in a gym bag, backpack, or purse.
I've been testing the iHome Earphones for the better part of three weeks. I love them at the gym. At home I've been listening to all varieties of music: pop to soul, mellow to disco, classic rock to oldies. All sounded clear, no overbearing bass or tinny sounds.
If you're in the market for wireless Bluetooth earphones, I strongly recommend the iHome Fit Wireless Bluetooth Earphones. They're reasonably priced, sound great, and first and foremost, stay in place.
MyMac.com Review Rating: 8 out of 10