Pixelmator
Company: Pixelmator Team
Price: $29.99 (USA)
Availability: Mac App Store (preview)
Model: version 3.3.3 Limestone
Requirements: OS X 10.9.5 or later


In the digital age, all discussions of image editing software lead to Adobe Photoshop (PS). PS dominates its software class, but there are alternatives that challenge PS by offering the most used features at a lower price. Heavyweight software comes at serious prices with gigantic overheads. For people who want to avoid the Adobe business model and the various costs and other overheads that PS demands, Pixelmator is an alternative.
Many established PS users would never consider alternatives to their existing software, often to protect existing investments of time and money. For the rest of us it's good to have a choice with our wallets and our hard drives. Over several weeks, while this review was in progress, Pixelmator was used exclusively without any need for recourse to Photoshop to complete tasks.
If you have never used imaging software before, Pixelmator is a low-cost way to enter. If you are a user with PS experience, either the full-blown monster version or the baby-monster version of Photoshop Elements, you are in for some surprises. The first one will be pleasant as you realize that almost all the PS tools and processes you use are available in Pixelmator.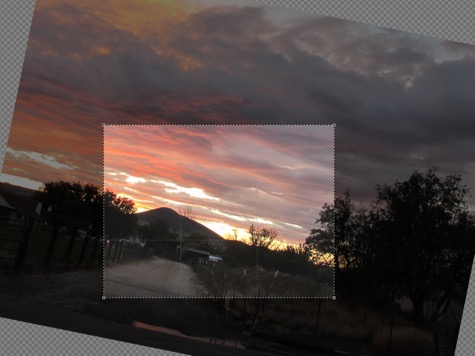 Pixelmator cropping tool in action: exaggerated for illustration
The second shock is related to the way PS tools work: one example is the Crop Tool. In the PS incarnation the selection box is dynamic; in the Pixelmator version, the selection box remains mostly static and the image is dynamic. It's much easier to see and work with than to describe. It matters much less than you might imagine: you are a member of a species that has come to dominate its home planet, for better or for worse, through its abilities to adapt.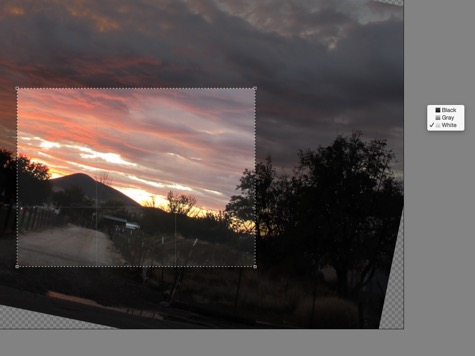 User selectable work canvas: black, grey (shown), or white
The black interface seems to polarize opinion; users either love it or hate it. If you hate it, the good news is that a right click on the work canvas allows the user to select grey or white. Extending this option to the remainder of the interface would be a crowd-pleaser judging by the Pixelmator user forums.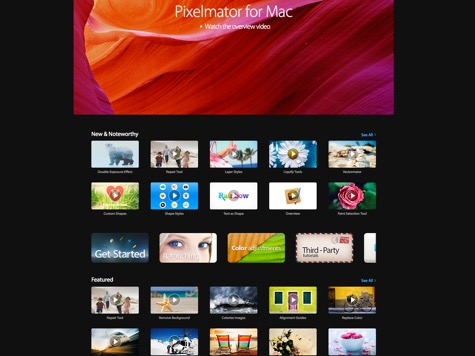 A useful range of research & assistance tutorials
If you think a list of features and capabilities will assist you in deciding whether or not you should give Pixelmator a try then visit the product webpage on the publisher's website. The support pages offer a range of easily accessible resources for research and help. These include a short overview video and a repair tool video to show off one of the later developments in image editing techniques. Pixelmator is clearly trying to keep abreast of the times with support for such technologies as Force Touch on the new trackpads, iCloud Drive, and Handoff for those who go back and forth from one type of device to another. Doing so requires the excellent iOS version of Pixelmator, that is not part of this review.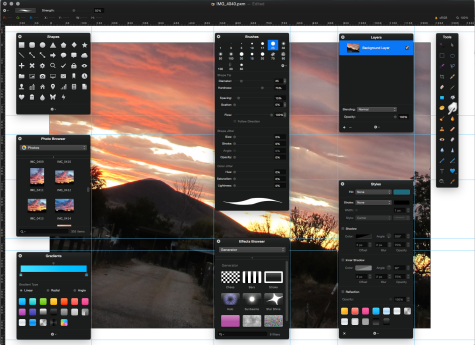 All the palettes and the toolbar on a white canvas—not a recommended way to work!
The range of controls and effects that can be applied to an image is extensive. If there are tools or procedures you want/need that are not here then you are likely to be a heavyweight-software user already and fall outside the demographic that is addressed by Pixelmator or other PS alternatives. Back in October, 2007, when Donny Yankellow reviewed a much earlier version of Pixelmator for MyMac, he noted the lack of rulers and guides. Just visible in the screenshot, these essential tools for many workflows are now included, and amazingly the price has dropped to almost half of what it was back then!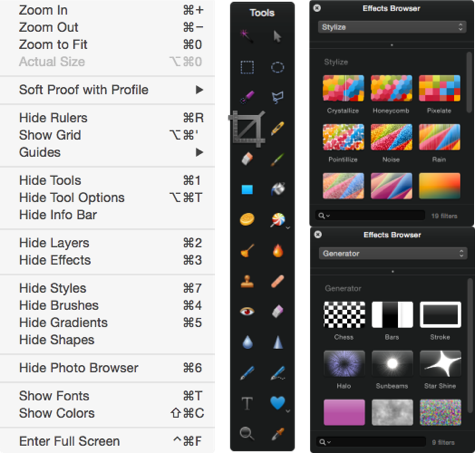 View menu, Tools palette, and two of many Effects Browser palette variations
A glance at the menubar View menu, the Tools palette, and two of the many options in the Effects Browser palette shows the range of control the user has over the image. Most of the tools and routines will be familiar to those who have used a pixel editor before. If any of them work differently from the way to which you have become accustomed then you will quickly adapt. The help on the Pixelmator website will soon resolve any such anomalies.
During the course of research for this review, the latest version of Pixelmator went to 3.3.3, designated Limestone. The update was for minor stability and bug fixes, although 3.3.2, which introduced a variety of new features and technologies, was stable during testing.
Overall, the switch from PS to Pixelmator was a success during the writing of this review. Adobe once had this software sector to itself. Now there is choice, and publishers are emerging whose business models are more friendly to individual users, along with more affordable prices. For more modest requirements outside the professional studio, using Pixelmator as an alternative solution makes a lot of sense, both financially and for a freedom of choice.
In conclusion
A lot of software for the asking price.
MyMac Review Rating is 9 out of 10.