Multi-Device Keyboard
Model: K380 (Blue)
Manufacturer: Logitech
MSRP: $39.99
Logitech's new K380 Multi-Device Keyboard can be connected to three devices simultaneously via Bluetooth. Say you have a Mac, an iPhone and, an iPad. Link each one to the keyboard and its settings will be remembered. When you want to use one of them, you just press the appropriate button and you're connected.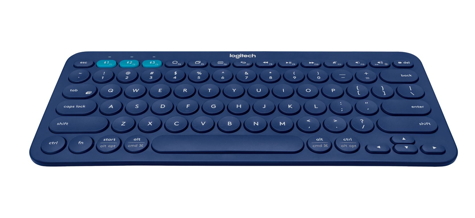 Logitech refers to this as a compact keyboard but the keybed is the same width as that of an Apple Wireless or MacBook keyboard. It feels a little cramped because the overall size is small but the keybed is the same. It's an optical illusion that you will overcome. The compact claim relates to its portability. It measures 11 x 5 inches (28 x 12.7cm) and weighs only 15 ounces (425g). The keys are round instead of square. I thought this would be a problem but I was pleasantly surprised to find they work well for me.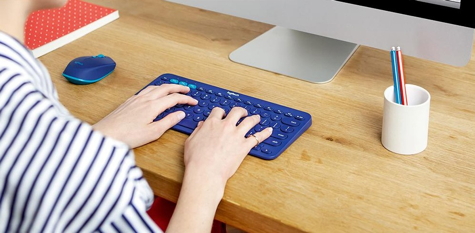 Connectivity is compatible with every Bluetooth wireless device that supports an external keyboard. This is a universal product that works with Windows, Mac, Chrome OS, Android, iPad, iPhone, and Apple TV. The keyboard is OS-adaptive meaning that it recognizes each device you connect to it and maps the keys to give you a familiar layout, including shortcuts and function keys. The K380 Multi-Device Keyboard uses two AA batteries, that are provided, and Logitech claims they will last up to two years.
There is a Logitech Options utility available for download on Logitech's site. It requires Mac OS X 10.10 or later. With it you have finer control of your Logitech devices including this keyboard. I use an MX Anywhere 2 mouse and the same Options utility allows me to configure buttons, scrolling speed, and more.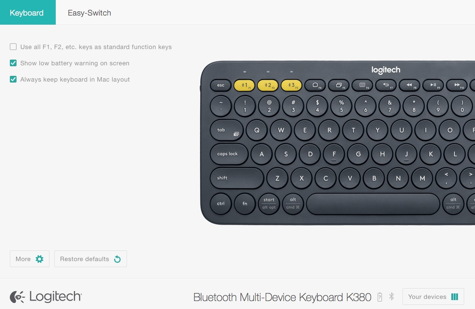 This keyboard is well made, well designed, and is sturdy. It has four rubber feet that keep it from sliding, and the typing angle feels just right to me. Its light weight makes it easily portable. The $39.99 price is an good value. My wife and I both have iPads and we often need a keyboard. We have an old one that is part of a clumsy cover. Now that we have the Logitech Multi-Device keyboard, we each have our iPads associated with it. A press of a button is all it takes to connect it to either one.
MyMac Review rating is a rare 10 out of 10.