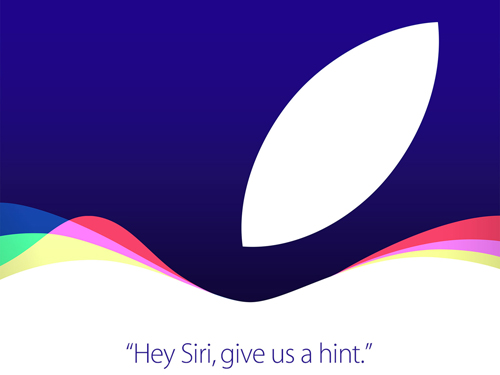 With the Apple event just a few days away I've gathered up the collective brain trust of the MyMac.com writers and asked them for their predictions for September 9th. After the event I'll rundown the responses and see who had the most correct predictions.
In no particular order:
New Apple TV with app integration and better remote.
iPhone 6s – force touch, 12 megapixel camera with bigger CCD, better front camera, very slightly thicker body and better battery life, A9 processor, 3 models (6s, 6s+, 6c).
iPad Pro.
New iPads – force touch (maybe… not sure if it can be done on larger screen size), camera upgrades, processor upgrade. Upgrades will depend on model.
I WANT the glass phone/PDA Tony Stark uses in the Avengers movie. LOL.
Same as Michael, except that there will be no iPad announcement at this event. Only iPhones and Apple TV.
An iPad event will be set later this fall, maybe at the end of October, where Apple will also announce the launch of El Capitan and probably an update to the Mac line as well.
iPhone 6s, 6s plus, 6c.
Apple TV.
iOS 9, and OS X El Capitan at September 9 event.
New iPad, Mini iPad and iPad Pro in October.
If the new iPad doesn't have multitasking, USB, and microSD ports it will remain a cute but expensive tablet for kids to play with. I hate Microsoft but their Surface 3 makes the iPad look like a toy.
I'd toss in a new Airport Extreme, simply because I just had to replace one.  : – )
No iPads this time. Both S phones with Force touch.
Better camera, better processor, and the biggest change for me will be the expected RAM upgrade to 2GB in the phones which will help support better multi-tasking.
I'm also not sure about Apple TV. This may need more time.
Who cares about a Retina TV? And Roku, Chrome Stick and FireStick have all pushed my AppleTV to the side lines. I hardly ever use it any more. It really needs to support ALL standards.
Would love to see an Echo like product from Apple, but that's not going to happen.
iPhone 6S and 6S Plus are givens
A9 increased RAM. Not that Apple will say as they don't usually mention RAM.
12MP camera and improved FaceTime camera.
Possibly 4K Video on the iSight.
Force Touch.
Maybe a new colour – not sure on that one.
iOS 9.
iPads will be held back for October.
Apple TV IF it features HomeKit.
More watch stuff – wOS 2 probably and maybe even hints about the watch 2 itself.
External 5K monitor and retina 4K 21″ iMac.
Updated iMacs.
Force touch Magic Trackpad or Magic Mouse?
New keyboards and force touch track pad available as peripherals.
HomeKit released – Available this fall ;-).
iPads to be big part of HomeKit.
New iPhones, increased Ram, slightly smaller.
Apple TV released. Two versions but limited to only the USA for streaming services to start with.
Expect much more emphasis to be placed on Metal for gaming.
Apple's event can be watched on almost any device. OS X, iOS and Apple TV users can watch via the Apple.com/live website. Windows 10 users can also watch via the site using the Edge browser. Or install VLC and go here.