Gear rotation180° Horizon backpack (charcoal color)
MindShift
$260 U.S.
Every professional and serious amateur photographer loves bags. We do because they're an essential part of our kit. I'm betting that you have a closet full of camera bags. Just like lenses, different camera bags serve different functions. You probably have one just for event shooting, one for corporate gigs, one for hiking. Am I right?
Actually, I'll bet you have more than one for each of those gigs. I know I do. When we shop for bags, were often trying to find a bag that hits the camera bag holy trinity: light, roomy, and protection. But let's add a fourth: it needs to look good.
I've had the pleasure of getting my hands on a MindShift Gear rotation180° Horizon backpack (charcoal color) to review and this one hits all four of those points in some respect.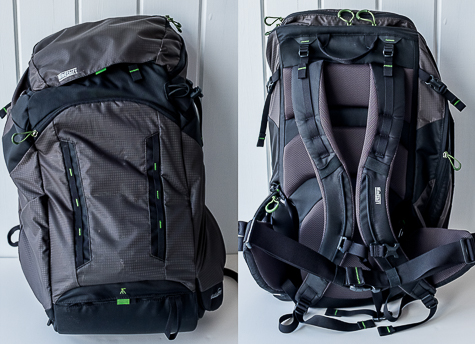 MindShift Gear rotation180° Horizon is a lightweight (under four pounds/two kilograms) medium-large backpack that features a rotating, detachable waist pack that you can pull out while still wearing the backpack. The waist pack is a decent size that can hold a modest amount of gear (more on that later) while the main part of the backpack can hold more gear or a night's worth of clothing. The waist pack can be totally separated from the bag for those times you only need to carry a small amount of gear.
The interior section of the backpack can hold a separate photo gear insert (sold separately for $45) that can store more lenses and/or camera bodies. A roomy exterior pocket is designed for carrying a water bladder or bottle, but can be used to stow additional gear without padded protection. There are hidden exterior straps for attaching a tripod to the front of the bag.
The backpack is made of a light but strong water-resistant nylon and an optional waterproof rain cover can be purchased ($20) to cover the main part of the bag but not its rear. There is also a smaller separate rain cover for the waist pack. On the rear of the bag, there are breathable pads that comfortably rest against your back allowing air to flow between you and the pack.
With some of those specs out of the way, let me get into the juicy part of this review. First, I'd like to address a few things that didn't work for me with the MindShift Gear rotation180° Horizon backpack.
This is not the bag to take with you to a corporate or event job. It's strictly for outdoors and hiking and such. I live in New York City and have taken it to a few jobs. While it made schlepping a lot of gear on the subway and city streets very comfortable, it just didn't work well as a tote for an indoor shoot. That's not really about the looks but rather the usefulness of accessing the gear while on a set or a fast moving job.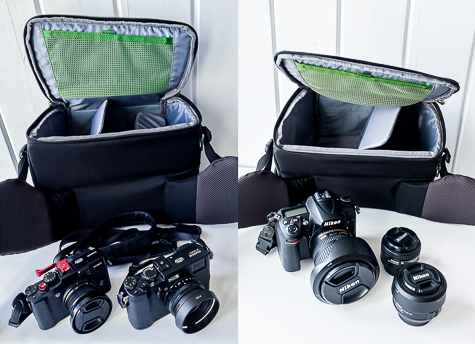 The waist pack was not quite big enough to hold my Nikon D7000 with a 28-70mm f/2.8 lens. It could hold that camera with one of my prime lenses attached and had no problem accepting both my smaller Fuji X100T and X20 together. I'm pretty sure the the waist pack would have a difficult, if not impossible, time holding a full-frame camera with a lens attached. The waist bag was designed for more modest sized cameras.
Mirrorless cameras, like the Fujis I own, will have no problem fitting in the waist pack. Lenses too, primes and mid-range zooms, fit nicely. I'm sure this waist bag would be a happy home to the smaller mirrorless DSLR cameras.
The gear insert and the rain cover are additional purchases. This will add another $65 to the already hefty $260 price tag. These are accessories that I think are mandatory for a product like this and I'm bummed that they're not included. I usually use Lowe Pro bags and they come with built-in rain covers.
Now that that's out of the way, here are my review comments in no particular order. 
I took the MindShift Gear rotation180° Horizon out a half dozen times or so, on different jobs and walks, and noted what it was like during my real world excursions.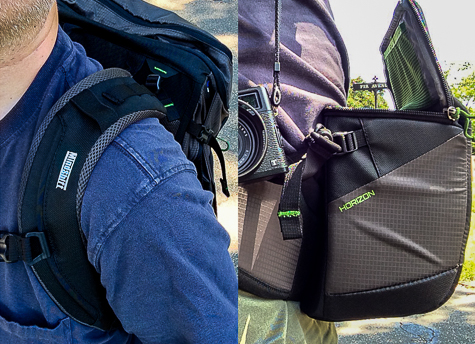 First thing I noticed while carrying about 30 pounds of gear was that this pack felt really good against my back. The padding on the rear of the bag keeps the actual pack off my back and allows some air to flow between my back and the bag. My sweaty back really appreciated this.
The Horizon's shoulder straps are wide throughout their length which means I could adjust their length, and still have a wide part of the strap on my shoulder. I had to adjust the straps to drop the bag lower against my back so that I could have the hip strap go around my waist rather than my belly. This is unlike some other backpacks whose straps taper towards the bottom so when they need adjusting, the narrow nasty part of the strap ends up digging into your shoulder. The cross strap (the one that snaps over your chest) is also adjustable throughout the length of the shoulder straps. All this means is that you'll have no problem finding a comfortable position for this bag on your body.
The MindShift Gear rotation180° Horizon has an aluminum internal backplate that helps keep it rigid. This plate gives the backpack a solid feel, especially when putting on and taking off the bag. It doesn't feel like it'll collapse into a pile of mush when you put it on the ground.
The rotating waist pack strap distributes a lot of the weight of the bag onto your waist, making it very comfortable to walk around with when it's in the backpack. What's interesting is when you have the pouch rotated to your front, the waist strap still seem to distribute some of the weight of the whole backpack onto your hips. I know that's weird but I think it's because the waist strap keeps the frame of the backpack pressed against your back.
To release the waist pack from its hidden home in the backpack, you need to reach back with your right hand to release a magnetic tab and then pull out the waist bag, sliding it to your front. The magnetic tab is easily reached but I had to practice a few times to find the correct place where I just pull it down and open the side flap to release the waist pack. Once the flap is open, the waist pack has a nice big handle that you can grab and pull the pouch around. Once I got the hang of this, it was pretty easy.
The waist pack has a cord that attaches to the bag so if you don't have the waist strap around you, someone cannot easily open the side flap and yank out the waist pack from behind you. While this is a smart feature, I wish the cord was a little more robust. It could easily be cut with a small knife. Perhaps a steel or extremely rugged plastic cord would've been better here.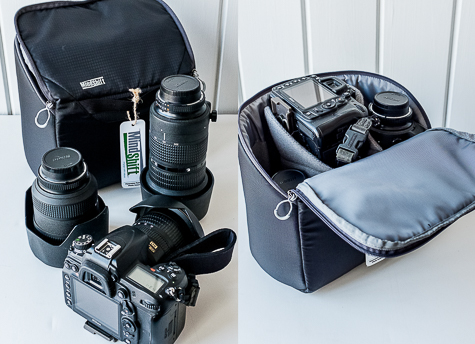 Like I already mentioned, the waist pack cannot hold any large lenses, so they need to be stowed in the top part of the backpack, most likely in the optional gear insert. With the insert, I was able to pack a bunch of lenses in there and still had room between the insert and the walls of the bag for some more skinny stuff.
One thing I did notice is with a lot of gear in the top part, the backpack easily becomes top heavy. This means when you take the bag off and lean it against something, you have to make sure it's secure to avoid it toppling over. This is not a flaw, per se, but it's something to be aware of and something I learned of first hand.
I had both a 300mm f/4 and 80-200mm f/2.8 Nikon lens (both really heavy and super expensive) stowed in the top, and I leaned the backpack against a tree and backpack toppled over. Luckily, my lenses were stored in the additional padded camera insert and the top was zippered shut, so nothing was damaged.
Also, with a lot of weight at the top of the bag, there was a bit of awkwardness while carrying the bag. When I pack a backpack, I tend to put the heaviest stuff towards the bottom of the bag and leave lighter stuff towards the top. With a waist strap, that helps to shift the heavier weight towards my waist and away from the top part of my back. With the heavy gear towards the top, I felt like I had to be more aware of how I walked around.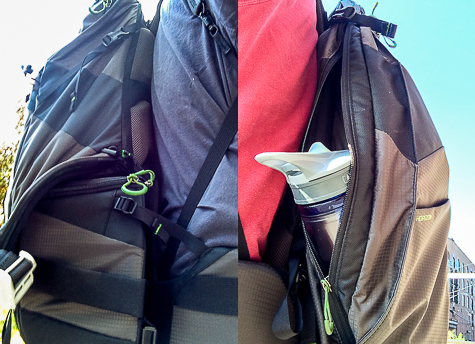 There's a nice big pocket on the side of the backpack that can house a decent sized water bladder. The bag even has a little hole for you to place the sipping tube up near the top of your shoulder (awesome detail). The Horizon doesn't come with a bladder but that was okay because the pocket was the perfect size for my CamelBak water bottle! Water bottle access with the left hand is pretty easy and it helped that the bottle has a loop that I could easily grab. Straightforward to do with my left hand reaching back and grabbing the water bottle loop. Simple to put back and zip up too with one hand. I loved this feature!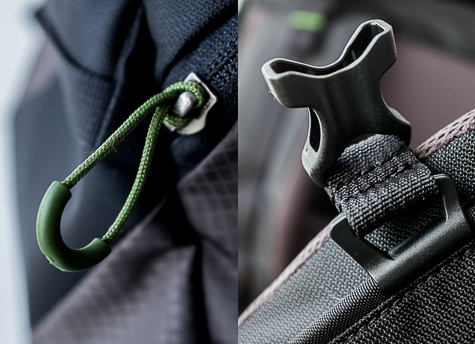 There are loops, handles, grips, straps, and buckles everywhere on this bag. If there's a place you need to grab, pull, grip, zip, yank, or snap, there will be something there for you to do so. The zippers have these well-designed loops for your fingers to grab and give you some extra leverage when zipping and unzipping. Good for big sausage fingers too.
The nylon material the backpack is made with feels light and soft but it is strong and water resistant. For a heavy rain you're going to better off with the (additionally purchased) rain cover. It covers the whole pack and there's even a small one included for the waist bag. Both rain covers fit nicely into a small pouch that you can jam into the backpack. Again, I wish it was included with the bag and didn't require a separate purchase. Also, I would practice putting the rain cover on the bag before you go out and find yourself in a rain storm. It took me a few minutes to figure out the best way to cover the backpack with it. Not something you want to fumble around with in a sudden downpour.
Overall, I really liked the MindShift Gear rotation180° Horizon backpack. It's a very handsome backpack which, on the outside, doesn't give away the fact that you're carrying thousands of dollars of camera gear inside. It's very comfortable to wear and always felt very secure on my back. It's light and solid and doesn't feel cheap. I liked that I could either carry a ton of gear in it or I could just stow some cameras in the waist pack and put a weekend's worth of clothing in the top part of the backpack. This is the kind of bag I've wanted for my weekend trips.
The compromises with this backpack are there but didn't bother me. Sure, I can't put a huge DSLR in the waist pack, but so what? I was able to stuff all my Fuji X cameras there and since I'm downsizing the amount of gear I carry overall anyway (can anyone say ibuprofen?), I don't see this being an issue. I do wish some of the optional accessories were standard gear with this backpack because I would really need to think hard about spending over $300 for everything. Still, I think the MindShift Gear rotation180° Horizon backpack is a very versatile bag and strikes a great balance between weight, roominess, protection and looks.
Another options for hiking and backpacking camera – Globo Surf would be a good choice.
MyMac Review Rating is 8 out of 10