Photos For Mac: A Take Control Crash Course
Author: Jason Snell
Publisher: TidBITS
Version 1.1
Price: $10.00 ebook
61 pages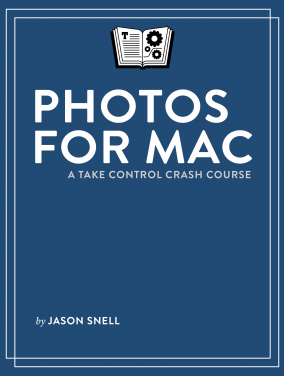 Have you left iPhoto or Aperture yet and moved to Photos? Still have some unanswered question about the process? Or maybe you've already jumped over but something just doesn't look right. Let former Macworld editor Jason Snell lend a helping hand in his new book Photos For Mac: A Take Control Crash Course.
Since this book is a Crash Course, it's not as long as other Take Control books, but don't let that stop you from reading it: it's chock FULL of tips, tricks, and answers to the questions that have been plaguing many of us before upgrading to Photos. Is it difficult to move from iPhoto or Aperture to Photos? Will the albums I created still be in Photos? What if I have multiple photo libraries? Photos looks confusing; how do I navigate the interface? Snell answers all those questions, and many, many more with simplicity and wit.
Although Photos For Mac: A Take Control Crash Course is about using Photos on the Mac, Snell includes a chapter on how the Mac version integrates with Photos for iOS. He also explains how Photo Stream and iCloud Photo Library work in conjunction with the Mac, iOS, and each other. It's a confusing topic, one that many of us at MyMac.com have been discussing lately. If you haven't turned on iCloud Photo Library I highly suggest you read the chapter Sync with iCloud Using Photos before doing so. (And backup your photos in a few different places before you migrate, just in case!)
If you're like me, and the most photo editing experience you have is cropping and the occasional red eye removal, then the Edit Your Photos chapter is for you. Snell points out where the editing tools are and gives a brief description of what those tools do.
Did you make calendars, cards, or books with iPhoto? Don't worry, that functionality is still available in Photos, as is simple photo printing. If you've never made a photographic creation, or felt a little intimidated, fear no more. Snell gives step by step instructions on how to start your project and tweak it to your liking.
The ideal situation is to read Photos For Mac: A Take Control Crash Course on your iPad as you follow along in Photos on your Mac. Snell doesn't get lost in excess verbiage, and uses just enough screenshots to make concepts clear, which I appreciate as a visual learner.
Photos For Mac: A Take Control Crash Course isn't the all-encompassing bible for Photos, but it's the perfect introductory guide to get started using Photos.
MyMac.com Review Rating: 9 out of 10