OLALA G3 Power Bank
OLALA
Price: $79.99 MSRP, but currently $18.99 at Amazon (where the company website points to for purchase.)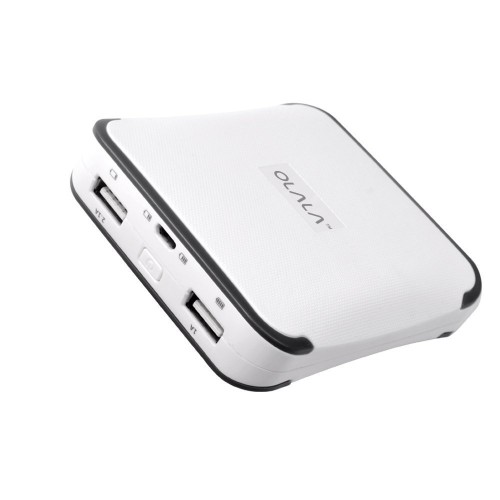 You can never have too many spare battery packs for travel, power outages, or just every day use. I have several in my house. Most give one full charge to my iPhone and a partial charge to my iPad and then they are done. The OLALA G3 Power Bank is one of these types of batteries. How does it stack up? Read on.
The OLALA battery is about 3″ x 3″ and about 3/4″ thick. It comes with a micro USB cable, which is flat instead of round. I kind of like that. The battery itself has two USB ports. One is 1.1A (good for phones) and the other is 2.1A (good for tablets). It also has four indicator lights to show the battery's charge at four stages and a button to press to see the status.
The physical unit is surprisingly heavy for such a small battery. You will definitely notice it in a small bag or purse.  The OLALA website states that the battery has numerous safeguards in place including overcharge protection.
Once I received my review unit I plugged it in and charged it. It does take several hours to charge. I ended up just letting it charge overnight instead of watching it like one would watch water boil.
The OLALA battery has a 10400mAH capacity. To me and probably most people that means absolutely nothing. I want to know how it works in terms I can understand. Well, here we go.
When charging my iPhone 6 I was able to get two full charges out of the battery, and possibly a little more. When it comes to my iPad I was able to one full charge, and possibly a little more (the indicator was on the final light).
While there is not mention of the iPad on the OLALA website, it does state you will get 3.5 charges out of an iPhone 6. While that is better than my testing results, I'll still take 2+ charges our of a battery unit. As I said earlier, most of the batteries I have can't do as much as the OLALA can on one charge.
My only complaint with the battery is the indicator lights. When charging my Phone or iPad the light would say I have 25% of the battery left. When I disconnect the device that indicator would jump up to the 50% level. While this isn't such a big deal, it would be nice to see that the indicator is consistent.
Overall, this is a helpful battery to have, and considering the current super-low price at Amazon.com it is something to consider picking up.
MyMac.com review rating: 9 out of 10