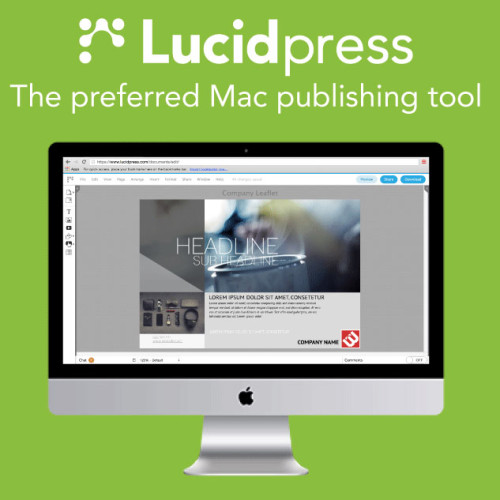 Replacing Microsoft Publisher for Mac isn't easy. You could download something expensive like InDesign, but it's not nearly as straightforward to use. We suggest you try a web app called Lucidpress instead. It's intuitive, Mac-friendly, and there's even a free option.
Lucidpress employs drag-and-drop technology, which makes it simple to design posters, business cards, brochures, and flyers. Like Publisher, Lucidpress has a large library of templates that can quickly be customized to create original content. There are even templates for creating online collateral like Facebook cover photos or blog header images.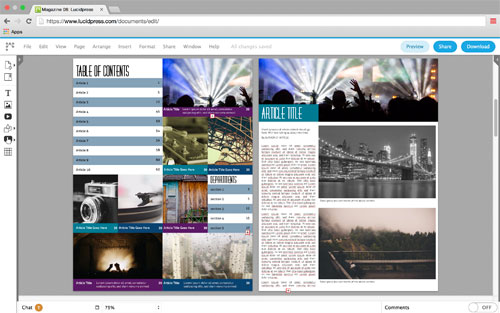 Once you're finished designing, you have the opportunity to print out your document or publish it online. A variety of file formats are available for high-res printing. If you are making a shareable document like a company newsletter or annual report, you might also want to consider online publishing or presentation mode options. Both options will help you turn a draft into a professional-looking finished product, with no extra work.
Another advantage of Lucidpress is that it's highly compatible. You can access it from any device, OS, and browser. It's perfect for users who might need to switch between Mac and PC while designing. It also sets itself apart from other layout and publishing tools by being collaborative. The interface works almost like a Google Docs version of Publisher—you can invite others to look at your projects, comment on them, and make direct edits.
To give Lucidpress a try, head over to their registration page. You can sign up free or choose a paid account for more storage space and template choices.