Whenever you have a disk in your drive, a USB thumbdrive, or any other external drive or media connected to your Mac, you can't just pull it out. If you do you will get an error telling you could cause damage to your device. Here's four methods to avoid that annoying error message.
1. Go to your Desktop. Depending on your settings the icons for the drives or discs will be on the Desktop. Just drag the icon to the Trash. The Trash will turn into an eject symbol. Let go of the icon. When it disappears from your Desktop you can remove it, or in the case of a disk it will eject from the computer.
2.  Click the Finder icon in your Dock. This is the icon with the two toned face all the way to the left. A window will appear. On the left of the window is the Sidebar. Again, depending on your settings, there will be a section called "Devices" with all the drives and discs connected to your computer. Ejectable items will have an eject arrow next to them. Click the arrow. When it disappears it is safe to remove the device.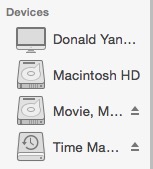 3. If you have a keyboard with an eject button and you have a disc in your drive press the eject button and hold it. The disc will eject.
4. Finally, if you see the icons on your Desktop you can control-click the icon. Choose "Eject…" from the menu that comes up. As in the options above, wait for the item to disappear before removing it from your computer.
Have a tip you want covered? Leave a comment below.