NuMount Pivot Desk Mount
NuMount VESA Adapter for iMac
Manufacturer: NewerTech
Desk Mount: $119.00
VESA Adapter: $99.00
NewerTech's NuMount Pivot Desk Mount lets you float your iMac above the surface of your desk. It's liberating to be able to swing the whole computer out of the way while using your laptop or when paperwork demands more space than you have. This is convenient for people who like a clean, tidy workspace but it is especially useful on a cluttered desk because your iMac doesn't even touch the surface.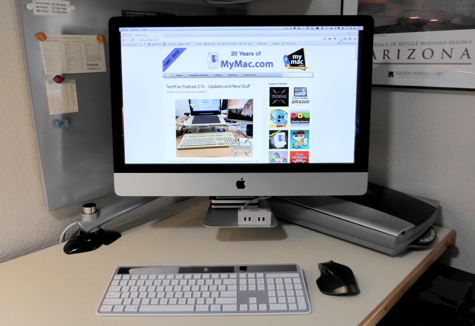 NewerTech includes two separate bases for the Pivot Arm. There is a base that clamps onto the edge of your desk and one that mounts through your desk. The latter requires a minimum one-half inch (13mm) drilled hole or you can use a cable pass-through hole if your desk has one.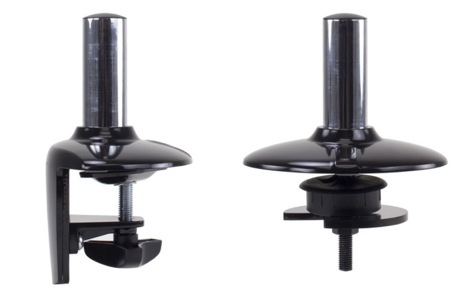 The Pivot Mount is quite heavy due to its steel composition. It is about 12 lbs. (5.44 kg), depending on the base you use. Holding a computer at arm's length, so to speak, demands rugged, strong construction. There are four hinges in the arm: a pivot at desk level, a hinge at the elbow, a left/right swivel behind your iMac and, an up/down hinge at the VESA mounting plate.
There are clips along the bottom of the arm to help channel the power cord and other cables. The cable bundle isn't invisible, but it is at least held in check. The point where the cables leave your desk to the point where they connect to your iMac measures about 28 inches (72cm). Depending on the amount of free cable length, you may need to buy a few longer cables. In my setup, I have three cables running the length of the arm: the iMac's power cable, a USB hub cable and an audio-out cable.
I found that mounting the Pivot Arm close to the rear of my desk against a wall, limits some of its movement. After some experimentation, I have a couple of positions that work well for me.
NewerTech developed the Pivot Desk Mount at a time when the iMac had a removable foot. The iMac models made after 2010 have permanent, non-removable feet. Apple has a build-to-order option so that you can have your new iMac custom-made without a foot and with VESA mounting capability. For those with later footed iMacs, NewerTech has a solution: the NuMount VESA Adapter for iMac.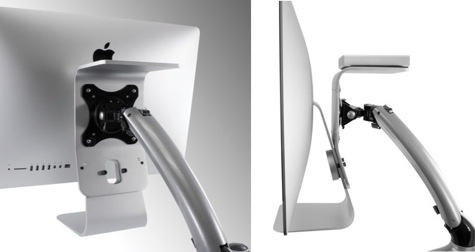 This VESA (Video Electronics Standards Association) adapter is a thick slab of anodized aluminum to match your iMac and is solid and ruggedly constructed. The attachment to the iMac is secure and causes no scratching or damage. This adapter alone weighs 2.5 lbs. (1.13kg). Your iMac's foot now becomes a convenient little shelf. I use it for a WD Passport Pro backup drive and a USB 3 hub. The adapter also has an additional 6 X 5 inch (15.2 x 12.7cm) shelf that hides behind your iMac. NewerTech includes a non-skid rubber pad for it. The shelf can easily hold an external backup drive. The idea of supporting an entire iMac on an arm is ingenious, but it's a little clunky. There really isn't an alternative to mounting your whole iMac on an arm. It works but there's a whole lot of gear floating above your desk.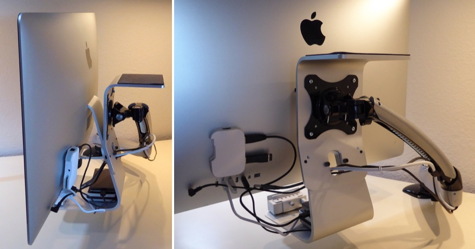 My 27 inch iMac weighs 21 lbs. (9.54kg), the VESA adapter weighs 2.5 lbs. (1.13kg), and the Pivot Arm weighs about 12 lbs. (5.44kg) for a total of 35.5 lbs. (16kg). This is considerable weight and installing it on my desk required two people and some sweat. The tension of the spring in the arm is adjustable so that whatever you mount can be counter-balanced appropriately. NewerTech warns that some older 27 inch iMacs are heavy enough to exceed the weight limits of the VESA mount, particularly iMacs made between 2009 and 2011. Using these iMacs with the VESA adapter is not recommended.
The Pivot Arm plus the VESA adapter, while a bit cumbersome, gives your desk and your workflow a new lease on life. These units are USA-made with precision and are ruggedly constructed, but this is not for use on a flimsy, light-weight desk. The installation is a little tricky but once everything is in place, you'll appreciate the extraordinary convenience.
MyMac Review rating of the Pivot Desk Mount is 9 out of 10 while the VESA Adapter rates 8 out of 10.