Touch Mini Boombox Speaker
ThinkGeek
$30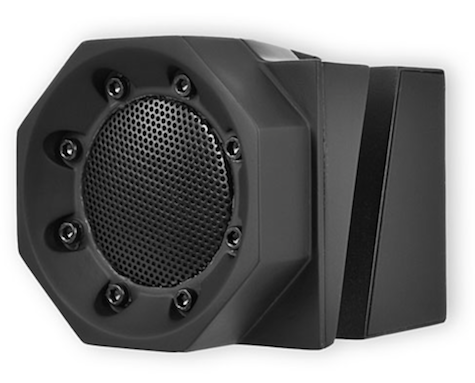 This little giant is the easiest external wireless speaker in the world to use with your iPhone, iPod touch, or other compatible audio source equipment. Charge the lightweight speaker using the included USB micro cable with your iOS or other charger unit and switch on the speaker's power. Place your iWhatever in Touch Mini Boombox Speaker's slot, and either stand the combo pair upright or lay them down on your table or desk or dresser or night stand. Done.
You don't need to pair with Bluetooth or any tooth. The speaker slot area has a microphone that picks up the audio from your iDevice's bottom speaker, amplifies it, and blasts it out through the speaker. The unit has no volume control. It is LOUD, so adjust your volume level on your iThingy. An auxiliary Audio Input port is on the rear for when your iGizmo is too chubby due to being in a thick case; no AUX audio cable is provided.
Touch Mini Boombox is all black. Decorate it with stickers, feathers, ribbons, and whatever you need to find it in a dark room, tote, or backpack.
At top device volume the speaker is sufficiently loud to get on the nerves of your housemates, study buddies, or people at a nearby picnic table. If you get distortion, ease off on your source's volume level. Audio quality is focused in the midrange sweet spot for instruments and voices. Hint: Try both front and rear facing placement in the slot; sometimes rear view produces best sound.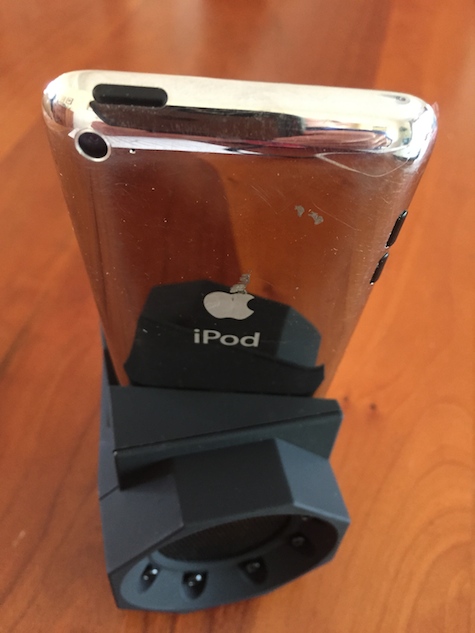 I have two warnings. Be careful with the physical combo duo, because your iPlayer is not secured in any way within the speaker's audio slot. There is occasional harmless static, so do not brag about Touch Mini Boombox to an audiophile. He or she will insult you, and you'll be tempted to throw this little wonder at the offensive snob.
For $30 this is a screaming deal on an innovative product. If the case or bumper isn't too thick on your iPhone you may be able to use the speaker with an encased phone.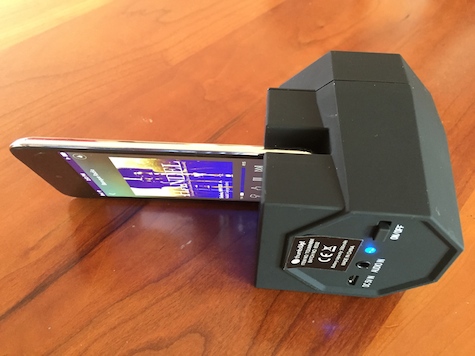 I'm listening now to an ancient iPod touch 4th generation playing Baroque music via Pandora, and enjoying every note. Well done, ThinkGeek.
MyMac Review Rating: 7 out of 10. The score would be higher for this recommended speaker if more colors were available and there was no static or distortion whatsoever.