Take Control of iCloud
Version 3.0
Author: Joe Kissell
Publisher : TidBITS Publishing, Inc.
Price: $15.00
175 pages, ebook format
ISBN: 9781615424467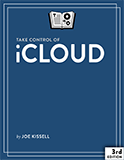 If you're in a hurry, here's the one sentence review of Take Control of iCloud: if you have any confusion or questions about iCloud, buy this book.
For those of you with a few extra minutes, here's why you should buy Take Control of iCloud.
I'm a big fan of Take Control books; in fact, this is my 10th Take Control book review. The writers thoroughly investigate a single topic, and present their findings to the reader in an easy-to-understand yet comprehensive manner. Take Control of iCloud is no exception.
As we use our computers, iPads, and iPhones everyday, we may not realize or think about that we're also using iCloud: for example, syncing iMessages, notes, apps, photos, and calendars, or sending content to Apple TV. Author Joe Kissell discusses the major changes in iCloud, including Family Sharing and iCloud Drive, along with explaining exactly what iCloud is and why you should use it.
Kissell gives step by step instructions on how to set up iCloud on Mac, iDevices, and Windows, and answers the questions readers have been asking since the inception of iCloud: What if I have multiple Apples IDs? What if I share my Apple ID? Should I buy more iCloud storage? How does Family Sharing work? What if I have more than one iCloud account?
Spoiler: Did you know you can have more than one iCloud account? Additional iCloud accounts created after the first one are considered secondary, and don't have all the features of the primary iCloud account.
I strongly encourage everyone read the chapter Manage Your Photos, maybe even twice, if you feel photos in the cloud is the least bit perplexing. Yes, Apple is changing the whole photos paradigm with the soon to be released iCloud Photo Library for Mac, but not everyone will be embracing it, let alone understanding it. The information Kissell shares in this chapter will clarify a lot of confusion or misconception people have. Readers will learn how to manage My Photo Stream on all their devices, plus become familiar with the new iCloud Photo Library.
Take Control of iCloud doesn't limit itself to just photos and iCloud set up. Kissell covers all aspects of iCloud, including iCloud Keychain, Back to My Mac, Apple TV, Security and Privacy, Mail, Contacts, and Calendars, Media, Find My Devices, and Back Up/Restore iCloud data. Screenshots and highlighted boxes with notes or tips help further explain the points Kissell makes in each chapter.
You don't have to read Take Control of iCloud in chapter order; you can jump around or skip sections if you like. However, I suggest reading, or at least skimming, the entire book, because, as the saying goes, you don't know what you don't know.
As with all Take Control books, references to other parts of the book are hyperlinked so readers can click and easily get to that section.
Technology changes in a blink of an eye, and it can be difficult to find the information you seek without visiting hundreds of web sites, which may only answer part of the question you have. I highly recommend reading Take Control of iCloud. It's a small investment that will have you feeling much more comfortable using iCloud.
MyMac.com Review Rating: 9 out of 10.