Bamboo Bluetooth Keyboard
Impecca
$100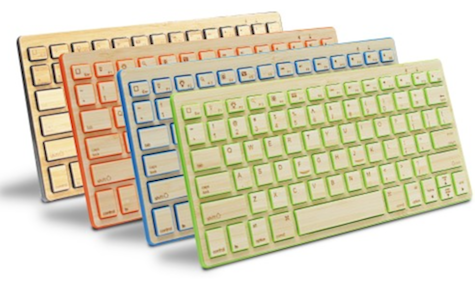 Available in four colorful combinations, this exceptional Bluetooth wireless keyboard from Impecca adds style and renewable materials to the staid universe of input devices. Pairing is easy with Macintosh, iPad, and iPhone. Key response and performance are excellent. A built-in battery holds its charge for weeks, and goes into sleep mode when dormant. Rubber feet keep the lightweight keyboard in place while in use.
A pleasant clickety-clack sound accompanies typing, so don't use this or any noisy keyboard when absolute silence is required in your office, home, or library. All your favorite keys are included, including forward delete. The printed manual explains in English, French, and Spanish the other custom hot keys, such as displaying an iPad's search screen, playing an iPad slide show, toggling an iOS keyboard on/off when you want to dictate text, and several audio controls.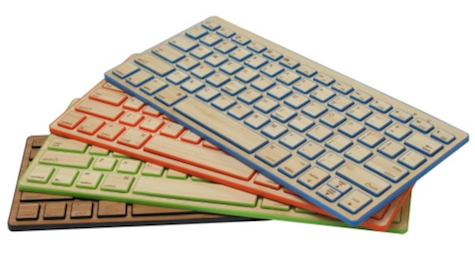 I have typed exclusively on the attractive Impecca Bamboo Bluetooth Keyboard since its arrival, and I really like using it. Would I pay $100 for it when many other wireless keyboards are available for much less money? Yes, if its color scheme and choice of materials were more important than cost savings for a daily use product that travels well, types perfectly, and turns heads. My only criticism is lack of an LED when caps lock is on.
MyMac Review Rating is 9 out of 10.