Brother HL-3170CDW Color LED Printer
Manufacturer: Brother
Price: $279.99
Internet: $200
This innovative printer employes Light Emitting Diodes in place of a laser in the Xerographic process. Although Brother makes no such claims or promises, this new technology should lead to lower power consumption over a longer useful in-service lifespan. The 23ppm print speed and a print resolution of up to 600 x 2400 dpi give very credible results on inexpensive copy paper. This is not to say that the print quality rivals that of a good ink jet printer using photo quality media. But for business reports, casual brochures and other communication with a limited life span this may be the perfect choice.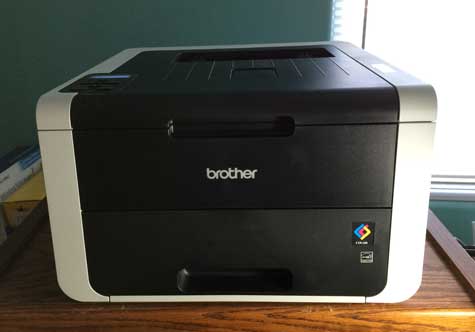 A color laser printer is not the extravagance that it was at one time. My first color laser was purchased about 15 years ago for the tidy sum of $1,000. This unit also made good quality prints on inexpensive paper but it had a dirty little secret based upon the business model made famous by King Gillette. Even if 99% of the pages printed contained no color and used black toner exclusively the printer refused to run at all when the internal page counter reached a magic number, determined by the manufacturer to be the average life span of the color toner cartridges. At this point all three color cartridges needed to be replaced to the tune of $400 to $500. Brother claims that they monitor the amount of each toner used as well as the number of pages printed. I hope that this leads to toner cartridges that are truly empty when the printer reports them so.
With very little searching I found a service routine that will reset the counter on each toner cartridge to make the printer treat the cartridge as new. I will be able to run the cartridge until truly empty and judge for myself. This may cost me a few pieces of paper but provide me with the last few hundred prints out of each cartridge.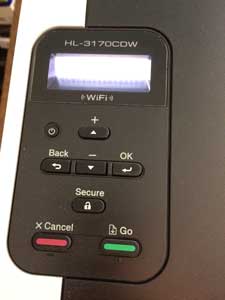 Features of note:
Demystifying the CDW printer model suffix
Many technology manufacturers like to have product names that would endear them to NASA but confuse the average consumer. In this instance CDW does not stand for Computer Discount Warehouse, although they do offer this printer for sale, among other national retailers. Brother uses these letters to designate features. C is for color printing which you probably have discerned already. D is for automatic Duplex printing. This is a wonderful feature that saves on paper usage, postage costs and storage needs by printing on both sides of a sheet of paper. W is for wireless, a catchall for a nice selection of networking options including Wi-Fi, AirPrint, and other wireless protocols for use with various operating systems. Additional connection options are available such as wired Ethernet and USB. This makes for one well connected print center. I followed the advice found in the printer reviews that recommended that the wireless options be set up from a computer directly connected to the printer via USB. It was easy; wireless and AirPrint work just fine.
Replacing the toner cartridges
Access to the toner cartridge bay couldn't be easier. Just open the hood and the well marked cartridges lift out and drop in. I just hope that I don't need to do this too often. My own "back of the envelope" toner cost projections lead me to believe that when printing in color with the standard cartridges the cost would be about 17¢ per page. When using the High Yield cartridges that cost would drop to about 14¢ per page. This does not include paper costs which could be as little as 2¢ per sheet. In an ink jet situation the ink costs would exceed this by a wide margin.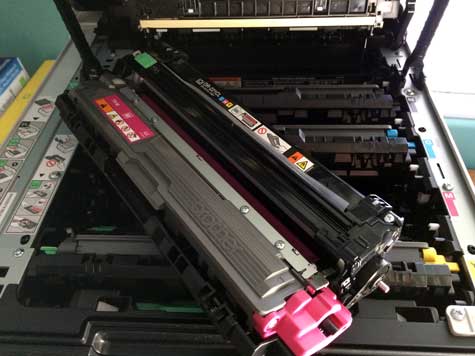 Manual Feed Slot
The straight through feed slot is a major disappointment. It will accept only one piece at a time. Getting the printer to see that piece of stock and pull it into the printer without skewing is somewhere between fiddley and frustrating. I have an older Brother monochrome laser printer that has a workable straight through feed unit that feeds twenty or so pieces of paper or up to ten envelopes. Adapting that unit to this printer would have taken minimal design time and provided for an enhanced customer experience. Brother missed the boat on this one.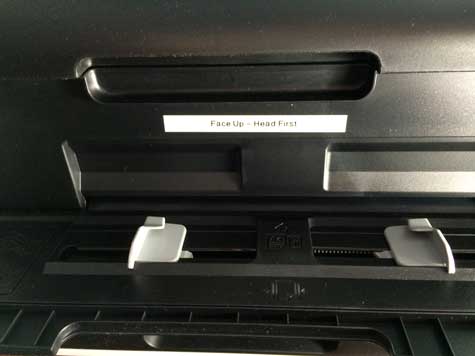 Paper Tray
The paper supply drawer holds a very respectable 250 sheets of paper at the ready for your printing needs. However, it lacks the little gauge present on other Brother printers to inform the user as to approximately the quantity remaining. Again Brother has invented that wheel already but declines to include it on this printer. I presume that allows them to save a few dollars in manufacturing costs. Our friends in Great Britain have a name for this. They call it being, "Penny wise and pound foolish."
Conclusions
This is a good printer that has earned a place on my network. It is not my only printer. The bulk of my day to day printing needs will continue to be handled by my seven year old monochrome Brother laser. If applicable, I will update this review in a year with long term real world results.
MyMac.com Review Rating: 8 out of 10