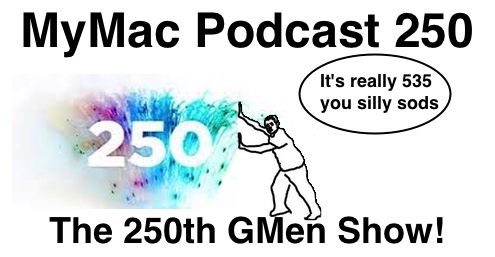 Can you believe that nearly 5 years ago, Gaz and Guy started their version of the MyMac Podcast! Can you believe that Tim hasn't wrestled away the show back from? We sure can't. However it wouldn't be a MyMac anniversary show without at least SOMETHING going wrong and sure enough, Guy's SoundBoard program is somehow hosed. Didn't stop the GMen though as they finished the conversation they started last week about PC to Mac switchers. Don't forget about their Bumper contest with as yet undefined prizes! Or as yet undefined length!
Download the show here
RSS Feed for your podcast app
Subscribe in iTunes
Links:
Guy's App Pick : Parallels 10 by Parallels $79.99 new or a $49.99 upgrade from version 8 or 9
Gaz's Pick: Insanity! particularly app(lly) named for this show.
People's pick: VainGlory Fantastic game: 3vs3. Was featured in the iPhone keynote. Graphics are terrific. Free to play.