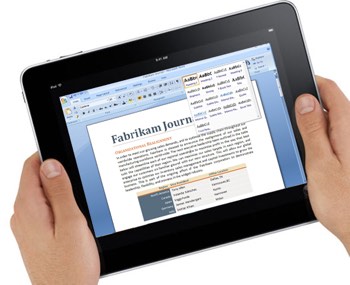 With today's highly mobile lifestyle goes today's highly mobile work style – and for small business owner that something that can be make or break in the first years of your business. When your iPad is your office really need to keep your office apps lightweight and versatile. There are core apps for everything from bookkeeping, to credit card processing, to videoconferencing apps like Blue jeans for on the go communication that can help your small business thrive and grow without breaking the bank.
Top Pro Picks
Looking at the top applications for iPad, you'll find lots of time saving; productive cloud-based applications that help you take your business on the road. Some of the leading tech press applications shine a light on the best the app store has to offer.
Paper by Fifty-Three Inc. was voted "App of the Year & Apple Design Award Winner" and the best iPad stylus by The Verge and Wired magazine. It's a must-have for artists and even for people who can't draw you have loads of brushes, pencils, templates and other tools to choose from. This goes without mentioning the in app storage capacity of different virtual notebooks.
Calling it a no-brainer, Business Insider recommends office for iPad. Microsoft completely revamped the controls and interface of their top-selling office productivity suite – Word, Excel, OneDrive, and PowerPoint. Annual subscription is required at a cost of $99.
Waveapps is a set of bookkeeping tools from Wave includes Invoice, Payments, and Receipts with a Payroll app for a fee. Keep your books in great shape, even if you're on the road, and the payroll makes sure that you're always on the money.
Google Drive makes the grade offering an office suite with MS Office level features without the MS office level price. Completely free it's not quite as advanced as its higher-priced cousin but you'll be able to do basic word processing, spreadsheets, presentations, and have plenty of room for all your files and photographs. You'll be able to access this anywhere just by logging into your Gmail or other Google account.
PC Magazine touts itSeez3D as one of its top iPad applications for 2014. This application turns your iPad into a mobile 3-D scanner and allows you to view the scans either as rotatable 3-D figures, upload them to a 3-D model sharing site, or have the company convert them to a 3-D printable format. This is a true 3-D data program instead of one that uses 2-D images to create a 3-D scan.
Evernote is a cloud-based auxiliary brain for those who don't have enough organic storage. It's an indexable and searchable digital notebook that stores webpages, notes, audio clips, lists and can be accessed via desktop, browser, or mobile device. Take notes, get organized, access anywhere from any device, share and create workspaces, and other tasks.
Have you ever wanted an intelligent calendar crossed with your to do list? Timeful is just that. The app's algorithms help it to learn how you get your day done and suggest ways to do them better. By learning from your behaviors, Timeful adapts to your schedule the more you use it, and can help you schedule good habits in that busy day – and believe in sync with your other calendars in Google, Microsoft Outlook, Exchange, and others.
IT Pro weighs in with the indispensable classic Adobe Reader a must for anyone using PDF files, that not only reads but allows you to convert and share. Great functionality allows you to open documents from email or the web, search, scroll, or move in and out and even leave comments in document using sticky notes, drawing tools, highlight, and markup text.
Don't forget a professional video conferencing app! Scalability and versatility are two of the biggest considerations, but so is finding in app like Bluejeans that is tailored to use on mobile devices.
And finally, CamCard free is the number one business card scanning app on iTunes. Read business cards instantly, then save the information on those cards to your contacts. Instead of dropping and losing cards all over the place, or procrastinating on entering them into your phone, one quick swipe and you're all done.
With all the different and varied apps, it's pretty easy to see that work isn't so much a place you go, as it is a state of mind. Wherever you are you can still get everything done that you need to do, all you need is your iPad and the right apps the job. By mining the iTunes Store for innovative apps to help your manage your time, money, business, documents, and just about everything else you can get in on the cutting edge of the way that business is getting done.