Painter 2015
Company:Â Corel
Price: $429.99 Upgrade $229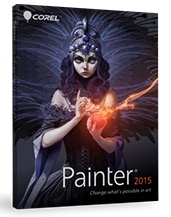 I have had the pleasure of reviewing the past few releases of Corel Painter for MyMac.com and the one thing I always applauded Corel for was the fact that they didn't release a new version every year, but they waited about two years. This allowed the software to have more features due to the longer gap between releases. It also makes it easier on the wallet. However, with Painter 2015, Corel has strayed from that pattern and released a new version within about a year. When I read they had a new version I had to reread and check the website because I didn't believe it. Is it still worthy of the high praise and your money? Read on.
First, and foremost, Painter has been and still is the best natural media painting program on the market. There are other great apps out there, but Painter has always been my favorite when it comes to realistic painting on the Mac. With that in mind, I am going to focus on the new and/or enhanced features for the purpose of this article.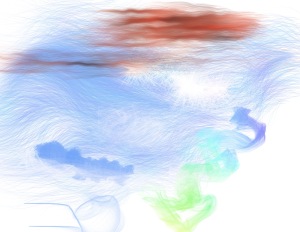 Revolutionary Particle Brushes: The "big" feature or addition to Painter is new revolutionary particle brushes. Particle brushes were in Painter before, but now Corel has added new brushes to the mix. These new brushes are effected by speed of painting, pressure of a pen, angle of the pen, and more. They work great and are a lot of fun to use. However, while they look really cool and I can see there place in quickly being able to add effects to a painting (like fur), they don't excite me enough to warrant a new version of Painter. Particle brushes have always been gimmicky to me no matter what program they are in.
Native 64 Bit: As with every new version of Painter this one is faster and smoother than the last. Making it even better is that Painter is now a native 64 bit application. There is less and less lag when painting with every version. It is never fun to make a stroke and have it appear on the screen seconds later. With Painter 2015 I experienced very little to no lag. The less lag in a paint program the more natural it feels. Of course, this is also effected by the speed of you computer and the DPI of the canvas you are working in.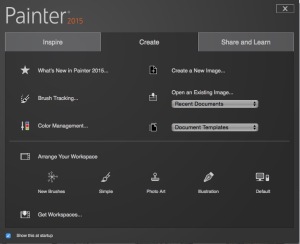 Custom Palette Arrangements: If you don't like arranging your own palettes  you can now use custom set options which are designed to save you time and get you painting right away. Are you doing "Photo Art?" There is an arrangement for that which only gives you tools that Corel thinks you would need. Illustration? There is a setting just for illustration. This does not mean you don't have access to other tools and settings; this is just a jumpstart to give you quicker access to tools that would fit into that category. A nice feature, but is it enough to warrant a new version?
Real Time Preview: One welcome addition to Painter 2015 is a real time preview of effects. In past versions of Painter you only saw an effects preview in a small window. Now you can see the effect applied to your entire image, or selected area, as you apply the effect. No more guessing on how the entire image will look.
New Tools, Textures, etc: As with past versions of Painter there are new paper textures, nozzles, a fresh look, and more. This is always a good thing.
One of the biggest disappointments related to Painter 2015 is the release of a mobile app. The app is basically Painter on the go and you can import your painting from the App into Painter. What is disappointing about that? Well, for iOS users there is no app. It is Android only. When I asked about an iOS app I was told that they are starting with one platform and will explore other platforms based on this release. Unfortunately, I don't have access to an Android device, so I can't comment on how the app is.
While there are a few more new features and enhancements to Painter 2015, there is nothing that I would consider overwhelming. While this new version of Painter is fantastic and fun to use and keeps Painter in my number one spot for natural media programs, I don't know that I can recommend upgrading for Painter X3 users. There just isn't enough there to warrant spending the upgrade fee. In my opinion, this would be more of a .1 or .5 update to X3 than a brand new version number, or year.
For the reasons above I am going to give Corel Painter 2015 two ratings. My first rating is for those looking to upgrade. As an upgrade I would give this a MyMac.com rating of 7 out of 10. There just isn't enough there for this to be a must upgrade. However, there might be enough there for some artists to want it.
However, if you are starting out as a digital artist and looking for a natural media program I highly recommend Corel Painter 2015. If you have the money, this is well worth it. In this case I would give Corel Painter 2015 a 9 out of 10. It truly is the best natural media program you can use on the Mac.