Mastering the Nikon D700 – Book Review
Price: $39.95
Authors: Darrell Young, James Johnson
Company: Rocky Nook
ISBN: 978-1-933952-23-9, 256 pages
DSLR cameras are the top choices for professional photographers. The provided owner's manual is great reading to familiarize yourself with your camera. But is there a better book to get you started? Let's evaluate Mastering the Nikon D700.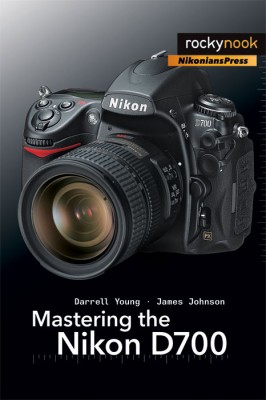 While the book looks at every settings and menu item like in the owner's manual, it feels closer to natural reading than just a list of features explained one by one. For more technical explanations, the book refers you to the owner's manual with associated page numbers. It is well illustrated with color images and diagrams related to the subject.
Mastering the Nikon D700 explores all features of the camera: exposure metering, exposure mode, histogram, a great detailed chapter on the autofocus system, white balance modes, menus and custom setting banks, playback (viewing your images on the LCD), retouching pictures in-camera, and the Nikon Creative Lightning System (CLS).
I find the book interesting, but I must say I was expecting more. Mastering a camera for me means more than just explaining the menu system and helping you figuring out where to find them. I was hoping to read more about how I can use different settings for, say, portrait situation, landscape photography, and other real work examples on how those features could help.
Nonetheless, Mastering the Nikon D700 is an easier and more logical reading than the owner's manual, and is recommended if you have the Nikon D700 camera. Other books in the same series will give you similar content.
MyMac Review Rating: 7 out of 10