Domke Chronicle Camera Bag
Tiffen
Price: $317-$350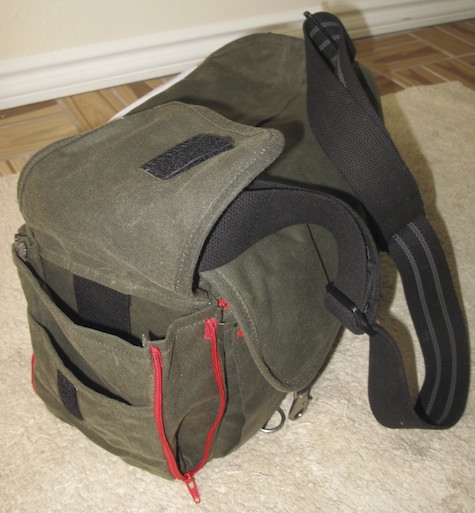 The Domke Chronicle is a rectangular camera bag made of heavy duty canvas. It comes with three detachable inserts than can be configured in a number of ways to accommodate a Digital Single Lens Reflex camera (DSLR) and a couple of lenses. It also has four expandable pockets, two on the sides and two under the front flap, as well as a smaller storage pocket inside the main compartment, suitable for SD cards or filters. There's a zippered pocket behind the front compartment for an iPad or other tablet.
When the bag is closed and buckled down, you can get at your gear through a zippered hatch in the top. All zippers operate smoothly. The top zipper has convenient pulls from both the right and left sides. In addition to the zippered tablet compartment, there's an open pocket that runs the length of the rear, that is suitable for a magazine or file folder. Other gear, such as batteries, flash attachments and miscellaneous cables, will fit nicely in the roomy side pockets, both of which have hoods to keep out the rain.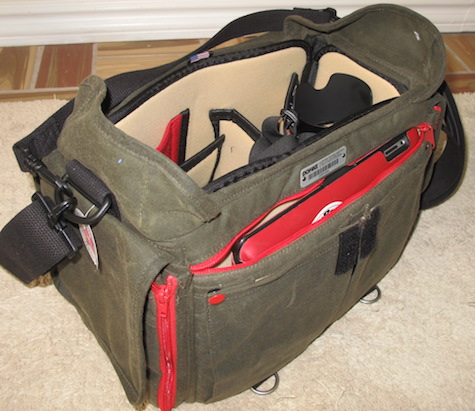 There is a wide webbed shoulder strap, which lacks any padding. You'll also find a smaller grip strap across the top so you can carry the bag like a duffle or hang it over the telescoping handle of a suitcase.
The bag is made of strong materials and, except for the colors, looks and feels like something you'd find in an Army surplus store. There's enough interior space and padding to make it useful for those excursions where you're not hauling numerous lenses. The exterior measures 15.75" long by 7" wide by 10" high. The interior is slightly smaller. There is no space for a tripod.
The Domke Chronicle would benefit from some padding on the shoulder strap, more inserts (only three are included), and a heftier base to offer greater protection in wet conditions. While the bag is clearly a quality product, it seemed seriously overpriced
Mymac review rating is 7 out of 10.