DuraFolio iPad Air case
Manufacturer: Speck Products
MSRP: $69.95 (Internet prices are about $15.00 less)
DuraFolio
I'm a fan of Speck iPad cases. I reviewed the terrific HandyShell cases here previously. Unfortunately, Speck still does not make a HandyShell case for the iPad Air so I decided to try their DuraFolio case.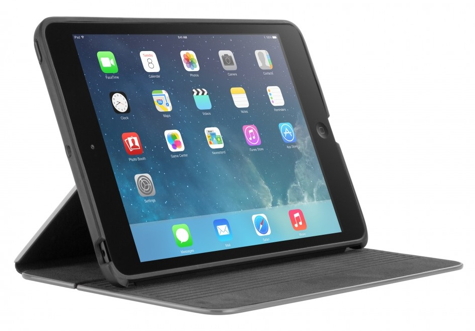 This case fits the iPad Air snugly and the materials and finish are good. The core shell is hard plastic, making the case rigid. The surface that faces the world is a waffle textured polyurethane material. It's comfortably grippable, durable, and protects your Air on all sides. The inside surface of the cover is a soft, felt-like material that protects the screen. Speaking of protection, the DuraFolio meets or exceeds military drop-testing standards, according to Speck.
Origami moves are required to convert the folding cover for viewing or typing angles. The viewing angle can be adjusted from nearly vertical to about 45 degrees. Refold the cover and you can use Speck's predetermined typing slant of approximately 20 degrees. Folding the cover securely for typing is a bit fiddly but once you have the cover folded correctly, it's reasonably sturdy.

The cover contains magnets that sleep your iPad when it is closed. Flip open the cover and you're conveniently met by a lit screen ready to use. The construction of the cover allows it to skid side-to-side a bit when in the closed position. The Air unexpectedly turns on on when the cover is ajar as shown below. I'm concerned that my Air will accidentally turn on and deplete the battery if it shifts in my bag.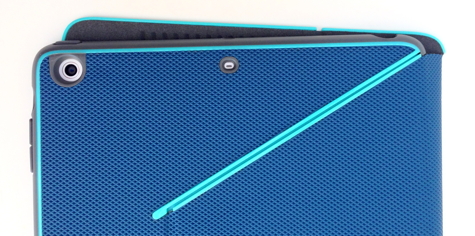 One of the features of the iPad Air that Apple heavily promotes is its light weight: just over a pound (482 g). The DuraFolio weighs in at ten ounces (283 g) raising the total weight of the Air in the case to one pound, eleven ounces (765 g). This combined weight isn't comfortable to hold unsupported for very long.
The DuraFolio is well-made, has a magnetic cover, and provides excellent protection for your iPad Air. Unfortunately, its weight and worrisome loose-fitting cover affect the overall rating.
MyMac Review rating is 7 out of 10.