Link for iPad Shoulder Bag
Company: STM
Price: $59.95 on ebags.com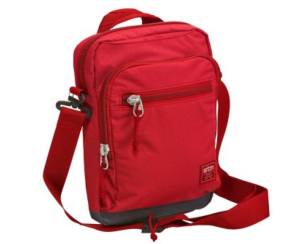 Do you like to carry your iPad or tablet with you wherever you go, along with iPad accessories and other items, but hate using a large backpack or briefcase? Well, have I got a bag for you!
The STM link for iPad Shoulder Bag has become my new favorite bag. That's not surprising, as I love the STM Cable Wrap, reviewed here last summer by my son. If you need or want a bag with numerous pockets, you'll be thrilled with the link.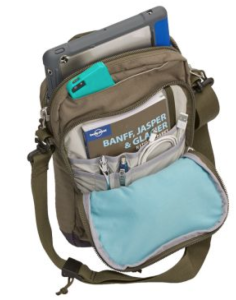 Let's go through this bag section by section. On the front of the link is a small zippered pocket, perfect for bus or subway passes, work IDs, or anything you need easy access to. I use it for my iPhone and grocery store shopping list.
Above that is an organizational area for pens/pencils/styli, power cables, glasses, business cards, or other small items. The only thing I would change in this section is the zipper: there's only one. A double zipper would be much more convenient. Right now the entire zipper needs to be opened in order to get to the pocket.
At the very top of the link, before the main compartment, is a small pocket with a magnetic closure. I love this area for a lip balm and small package of tissues.
The link's large pocket, divided into three sections, is for the iPad or other tablet up to 10 inches in size. The back section is surrounded by high density foam and a flannel-like material to keep the iPad or tablet protected. The other sections offer enough room for a wallet, glasses, book, or whatever else you require. The iPad won't fit if you use a large, thick cover like I do. However, thinner cases should be fine.
One more pocket is on the back of the link. I use this section for boarding passes or concert tickets, items for which you need quick retrieval.
The long, heavy duty shoulder strap is adjustable, so the link can be worn over the shoulder or cross body. There's also a thick handle strap for carrying the bag.
I found the link roomy enough to use as my everyday purse. It takes the strain off my shoulders and back, plus I don't have to worry about keeping my eye on my purse when I put it in the shopping cart at the grocery store. Wearing it cross body keeps the bag safe and it's easy for me to get what I need quickly.
The link comes in red, graphite, and olive. It's very well made, has strong zippers and zipper pulls, and holds a lot. My only complaint is not having two zippers for the organizational section. Otherwise, I absolutely love this bag, and highly recommend it, even if you don't have an iPad or tablet. It's that good.
MyMac.com Review Rating: 9 out of 10