FileMaker Go 13
Developer: FileMaker, Inc.
Free from the App Store (works with FileMaker 12 and/or 13)
FileMaker Go 13
FileMaker Pro is the database manager for the Mac; there is also a PC version making it dual platform capable. I have used FileMaker since [gasp] its Claris origins. It is my go-to app for organizing contacts, projects, inventory, organizations, including my reviews for MyMac. I have successfully run corporate product development departments using FileMaker.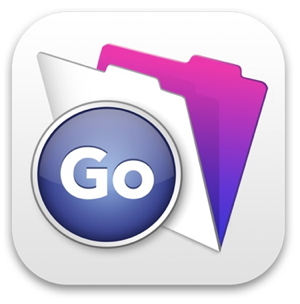 FileMaker Go 13 is a companion app to FileMaker Pro 13 that allows the use of your FileMaker databases on iOS devices. As an example, I have a 900-record contacts file called ROLO that I use daily on my Mac. When I travel, I am able to take that file along for instant reference on my iPhone and iPad. My ROLO has twenty-two different layouts and all of them function on my iPad as expected. The Find commands work well as do all of the buttons. Below is the Mac file (left) and the same file on the iPad (right).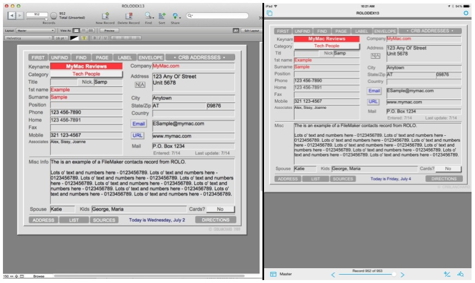 The file will operate on an iPhone, but the limited screen size requires much pinching and zooming. Here are vertical and horizontal views.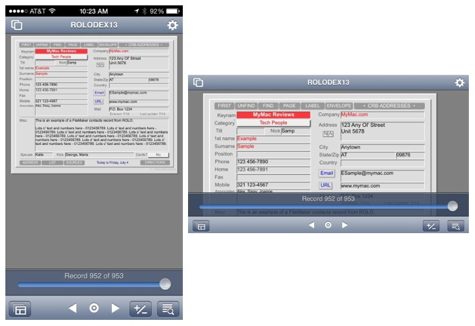 Files can be shared with several people or employees. Access privileges and passwords carry over to FileMaker Go. When there is a need for mobility, FileMaker Go makes it possible to carry: product catalogs, event management details, hospital patient records, convention organization, or inventory control files. As FileMaker says, " Create in Pro. Run in Go."
There are some features in FileMaker Go 13 that are not part of FileMaker Pro 13 such as a barcode scanner that utilizes the camera. There are alternate iOS keyboards available such as a numeric keypad and a phone dialer. FileMaker Go 13 includes the ability to use gestures and slider controls for additional mobile convenience.
It is vitally important to understand that the files on your mobile device are copies of the files on your Mac. Data changes are not synchronized to the original file and vice versa. To synchronize changes you must transfer the file back to your computer and use FileMaker Pro to import the data into the original file. A group with many iDevices may see this as a complicated shortcoming but if you are a single user, the sync process is not difficult to learn. The only real concern is possible confusion over which version of your file is the latest. As a result, backups are absolutely essential when using FileMaker Go.
If you are a FileMaker Pro user (it's $329.00), FileMaker Go 13 should be part of your arsenal. It is a free download from the iOS App Store so there is little reason to hesitate.
MyMac Review Rating is 8 out of 10.