Decibullz Custom Molded Earphones
Manufacturer: Decibullz
MSRP: $59.00 (extra molds are available for $19.99)
Apple's earbuds don't stay securely in my ears. Many people have fitting problems with earbuds/earphones and many ears differ between left and right. Decibullz has a clever fitting solution—mold your own. Custom-molding offers a big advantage over most in-ear phones. They absolutely, positively won't fall out of your ears. Even at the gym or while running.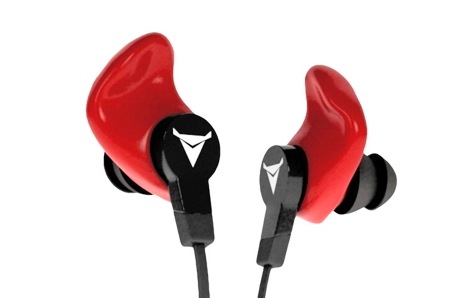 In the package with the Decibullz earphones is a pair of thermoplastic molds. Heat them in a cup of hot water and they become soft and malleable. When the plastic reaches a comfortable temperature, the earphone stem is inserted and the whole assembly is pressed and molded into the concha (bowl-shaped part) of your ear so that it fits comfortably. The plastic will slowly reharden so that your Decibullz are now custom-molded to fit only you. The plastic is reheatable and remoldable should your first attempt be unsuccessful.  The photo below is before and after molding the earpieces.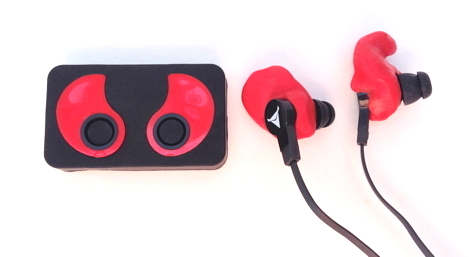 Headphones that fit into your ear canal must fit correctly or the sound will be disappointing. Even inferior-sounding earphones are improved if the fit is tight and secure. The idea of filling the area surrounding the earpiece with custom molded plastic is not new. Audiologists can make custom-fitted earphones for you but at a steep price. Decibullz's DIY approach is groundbreaking and surprisingly easy to do.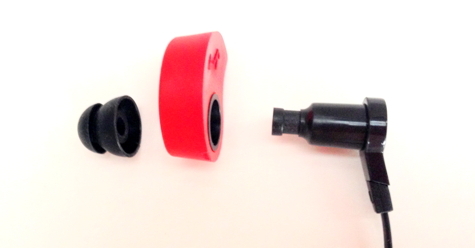 The Decibullz kit contains the earphones with a 48" (122cm) cable, three sizes of dual-layer silicone tips, two custom molds (available in several colors), and a nice, protective zipper case. As with some other phones, the cables are flat to minimize tangling. These are light weight and very thin. I hope they will prove to be durable over time. Decibullz provides an inline button on the right cable for Play/Pause. The same button is used for answering incoming phone calls. I would like to have a volume control, but that isn't a deal-breaker.
The sound, while not audiophile quality, is good considering the small drivers. There is a marked improvement in the sound when you custom-mold the earphones to your ears. When the molds are in place, much of the ambient sounds around you are blocked. I'd suggest being careful about wearing these out in public as you won't be able to hear traffic and other sounds. On an airplane, they'd be great. I plan on giving that a try.
Decibullz are ingenious and they sound good. For sound quality I'd give them an 8 but for innovation they rate a standing ovation.
MyMac Review rating is 9 out of 10.