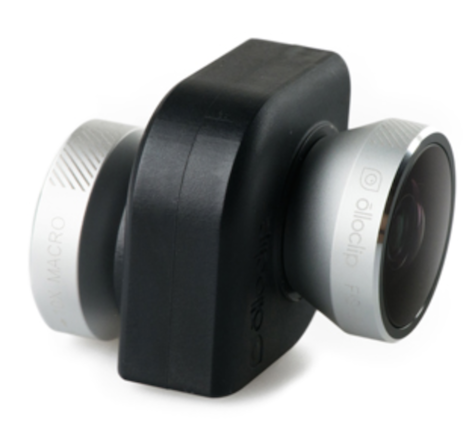 Problem #1: Closeup and macro photography is difficult and annoying using an iPhone, due to the small size of the self-focusing phone camera relative to the proximity to the subject when working at extremely close range.
Problem #2: The fixed focal length of the iPhone's camera is too wide for any attempts at distance photography, requiring pixel-reducing zooming and cropping that lessen the image content.
Solution #1: Use an iPad for closeups! olloclip's new $70 iPad 4-in-1 Photo Lens has fisheye, wide-angle, 10mm-macro, and 15mm-macro lenses, all contained in a single two-sided slip-on housing that is easier to use than describe.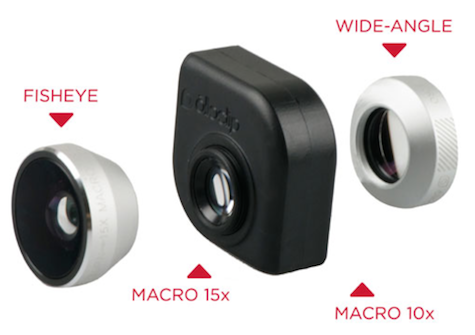 Solution #2: How about an iPhone 5/5s telephoto lens? The $100 olloclip Telephoto Lens and Circular Polarizing Lens  is another two-sided corner slip-on combo lens. You will be surprised how effective is the 2X optical magnification, with light polarization included as a bonus on the 1X flip side.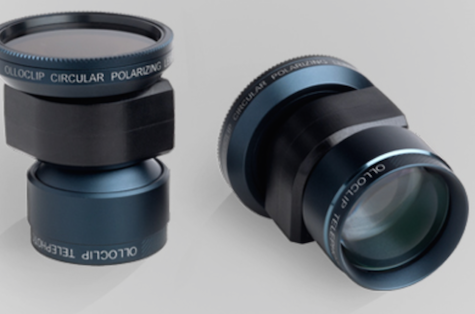 Below are the test photos I made to demonstrate the different focal lengths of iPad 4-in-1 Photo Lens. From top to bottom: wide-angle, fisheye, 10X macro, and 15X macro.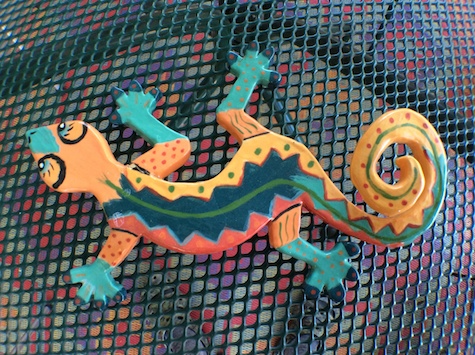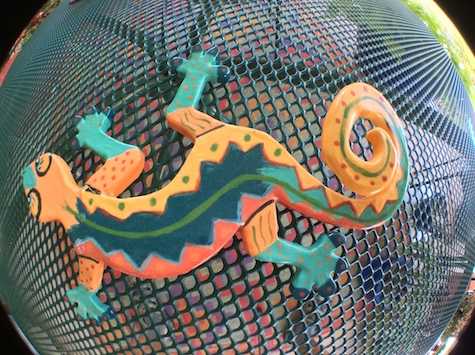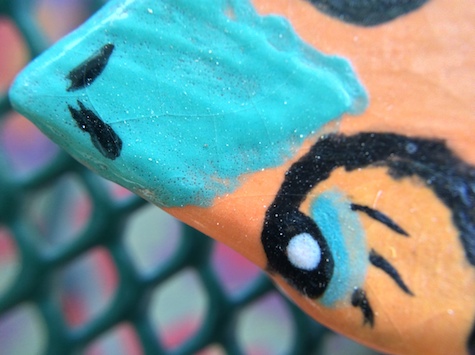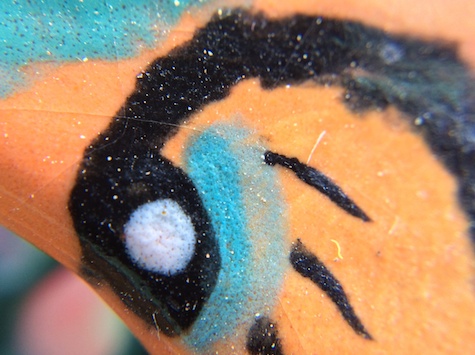 From this sampler and subsequent real-world use of the precision-ground, coated glass optics, ollo's fisheye and 15X are the least successful and most difficult to master. My consistent favorite images are made with the wide-angle and 10X macro, which share the same side of the lens housing. The wide-angle segment screws onto the aircraft grade aluminum screw threads. When unscrewed, the built-in 10X macro lens is available.
Below are standard and wide angle views of the same flowers, followed by the best 10X macro image I made from one of the flower interiors!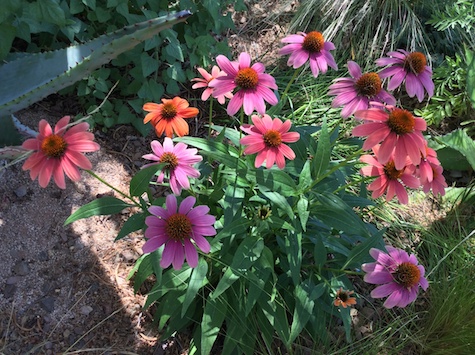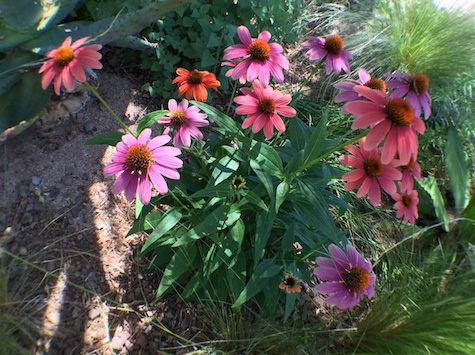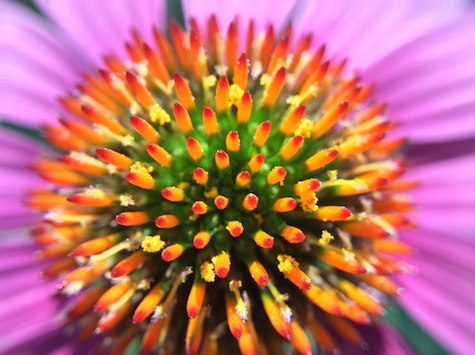 The wind was blowing, and I was on a knee pad. I am extremely patient and steady, but fixed focal length handheld photography at very close range is tricky at best. The image above was my third of ten. A tripod or iPad securing clamp would have helped, but not much.
Did you know that iPhone camera lenses have the equivalent of approximately 30mm focal length on a 35mm camera? Here is a thorough article on this topic plus several others, from another online publication.
Below are a standard iPhoto camera view and olloclip 2X telephoto view of the same flying pig photographed from the same spot. These and all photos in this article are shown full frame, without any cropping or enhancements.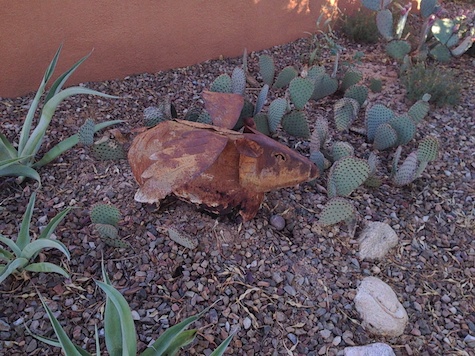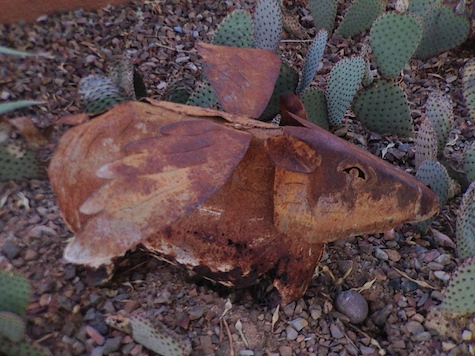 The final image below was taken looking up at the bright summer Arizona sky with olloclip's Circular Polarizing Lens rotated into maximum polarization. You easily can see the effect. Precision with this lens is a little awkward, but users quickly will become accustomed to rotating the circular polarizer external element. Without any polarization, the iPhone's original overexposed image of the sky was pure white. What a difference!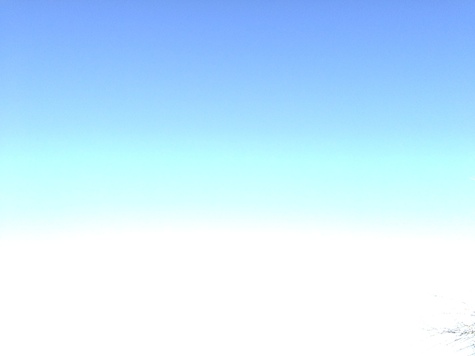 MyMac strongly recommends these and all other olloclip slip-on corner lenses. They are easy to use, and also easy to lose. Keep track of yours at all times
I have two scenic trips planned this summer. I'll be easy to find. I will be the guy positioning his iPad for closeup images, and aiming his iPhone for distance tele-photos.
Here is GazMaz's original comprehensive review of olloclip iPhone lenses from 2012, and Curt's brief follow-up from this year
Olloclip informs MyMac that "our iPad lens is for the iPad Air, iPad mini, and iPad mini with Retina Display. Also note that the Polarizer lens can be used over the Telephoto lens, or on its own. We include a step down adapter (one of the rings in the package) that lets you use it with our 4-in-1 lens for iPhone/iPod touch."