iDL46 Dual Alarm Clock, Radio and Dock for iPad, iPhone, and iPod
iHome Audio
Price: $100.00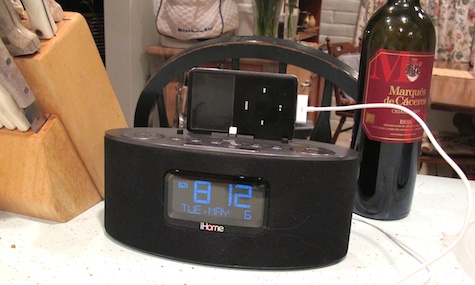 If you stayed in a motel in recent years, you probably bumped into this or a similar product on your nightstand. The iDL46  has some useful features, such as the ability to listen to and charge an iPhone, iPad, or iPod with either a 30-pin or lightning cable. The lightning connector is built into the top of the unit and the 30-pin connects uses a USB port on the back. The 30-pin cable is not included.  Many similar units I've evaluated had substandard audio but the IDL46 is well-modulated, resonant, and on the whole quite respectable for a small radio. There's also an AUX-in port if you want to connect a CD player or some other device to play through the unit's speakers.
Aside from being able to listen to and charge your iOS device, you can also listen to the radio. The iDL46 includes six FM presets, EQ controls, and 3D sound and Reson8 sound technology. iHome's rep tells MyMac: It's a speaker technology created by iHome. Reson8 speaker chambers are uniquely designed by iHome's design team. The specially sealed speaker enclosures are created to deliver astounding clarity, depth, and power, even in small units. 
You can set up the IDL46 with two different alarms and arrange to wake listening to your radio, iPad, iPhone, or iPod. You don't even have to set the time. Plug it in and it automatically syncs to the time in your area.
The unit is plastic, oval shaped, and sleek. The display is large enough so that many people will be able to see the numbers without glasses. One of the nicer touches in this unit is a setting that enables you to adjust the brightness of the display so the light doesn't keep you awake at night. It comes with two batteries for backup power in the event of an outage.
The lightning dock has a little back rest that will hold any model iOS device upright while it's playing or charging, but you might run into difficulty if your case is too thick. I use an iPad 2 with a hefty Otterbox case and was happy to see that I could just plug it into the USB port on the back. There is no way it would fit in the space with the lightning connector (not a problem for the newer, skinnier iPads).
Highly recommended.
MyMac Review Rating is 9 out of 10