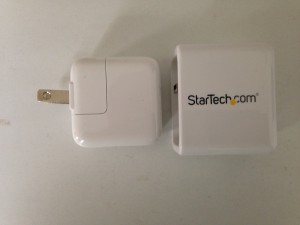 StarTech.com Wireless Travel Router for iPad
Company: StarTech
Price: $66.99
Have you ever been in a hotel that only had a wired connection for the Internet? Maybe the hotel had Wi-Fi , but only the wired connection was free? Believe it or not, there are still hotels and resorts that are like this. I recently took a trip to such a resort where the only free Wi-Fi was in the lobby. You either had to pay for Wi-Fiby the day or use a wired connection in your room.
This is where the StarTech.com Wireless Travel Router for iPad comes in.
For $67 you get a device that is about the size of  my 3rd gen iPad's charger that can turn a wired connection into a wireless one. It is fairly easy to set up and it works great.
The size of the device not only makes it very portable, but it is important because the iPad charger fits into the back. The router has a USB connection inside of it that connects to the iPad charger. You then connect the charger to an outlet and can still charger your devices from the front of the router through a built in USB port. You might be wondering if the iPhone charger will work. Unfortunately, it does not because it will not fit into the back of the router. However, if you have a USB cable and a power source with a USB slot you can go that route for power. It would have been nice if the positioning of the USB plug was a little lower, or designed differently to use the other charger.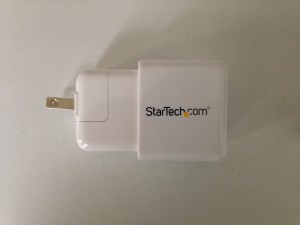 Once you are powered up you need to access the router's settings via a browser. This can be done without connectivity to the Internet. Here you can set a password for the router settings, set up your wireless network, and control other setting of the router. You can even set the router to be a WiFi extender if you need that instead; pretty nice.
Once set up you are good to go. All you need now is an Ethernet cable and a wired Internet connection. You plug in, connect to the wireless network you created and you are on the Internet. I found the speed of the wireless connection to be slightly slower than my regular home connection, but plenty fast. The network supports N, B, and G wireless bands.
As I was writing this review I started thinking that I was basically describing an Airport Express with some different features. Why not just buy one of those? I would give two reasons for this. First, the price of the StarTech router is a lot less than an AE, especially on Amazon where it is about $50 as of this writing in the US. The second reason is portability. The travel router is small and light. While the AE is small and light, this StarTech Wireless Router is a lot smaller and lighter. It will fit in your pocket with a small ethernet cable and the iPad charger if necessary. I love my Airport Express, but this would be what I choose to travel with in the future.
Overall, the StarTech.com Wireless Travel Router for iPad is a great device. It is lightweight, small, and affordable. It is easy to set up and use. I highly recommend it for those people are constantly on the go, plus the occasional traveler to that resort without free WiFi, or even for people  who need WiFi in your wired only office.
MY MAC REVIEW RATING IS 9 OUT OF 10