Penclic Mouse
Company: Penclic
Price: $73 – $99 depending on wired, wireless, or Bluetooth model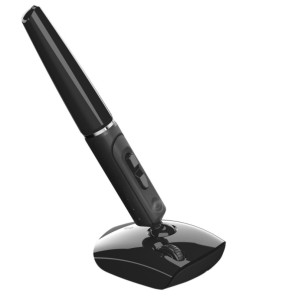 The Penclic mouse is a mouse that looks like a pen. When I first heard about it I wasn't sure what to expect. A mouse that is in the shape of a pen? I had to try one and see how it worked. Would it be better than a traditional mouse? Would it be better than a drawing tablet for drawing? Read on to learn more.
First, let's talk about the device itself. It looks like a very small travel mouse with a big pen connected to it. The buttons to operate it are on the pen portion and the scroll wheel is on the mouse portion. There are multiple buttons, but only the traditional click to select and control click buttons work on a Mac. The other buttons are for features on Windows. The pen part is movable to allow for a comfortable position for your hand as if you were using a pen.
As for using the Penclic, I found it to be very comfortable to work with. It is actually more comfortable than a traditional mouse and feels more natural. I found it very easy to move around the screen and click. The buttons are easy to use and get used to. The scroll wheel is another story. Its position is a little awkward to work with. Â I would much rather see that on the pen in some fashion.
While moving around with the Penclic is easy and comfortable I found drawing to be a mess. As an artist who has used drawing tablets, a mouse, and a trackpad in various programs I really wanted the Penclic to work. However, I found it unusable for drawing. It is very awkward and I could not do on the screen what I wanted to do. Even signing my name proved to be difficult. If you are looking for a drawing tool for your computer I would say look at drawing tablets and not the Penclic.
There is one more problem with the Penclic and that is the price. While the device is more comfortable than a mouse and I really liked using it as a mouse, it is basically a wired mouse for over $70 (it is less on Amazon). It is more expensive for wireless options.
However, many people do not like using a traditional mouse and hate trackpads. This might be the device for them. It is comfortable and as a mouse the Penclic a fairly good device. I see it as more of a niche product than something that is going to replace the traditional mouse.
MYMAC REVIEW RATING IS 7 OUT OF 10