uNu Aero Battery Case for iPhone 5/5S
Manufacturer: uNu
MSRP: $99.95
uNu Battery Case
With your iPhone 5 or 5S in the uNu Aero Battery case, you simply place it on the aluminum charging mat and the device charges your iPhone as well as the backup battery. No wires, no connections.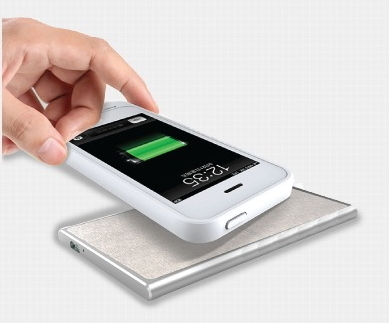 Over the past few years, induction charging has been tried by several manufacturers including Energizer (2011) and Duracell (2012). The technology works well, but there are some physical drawbacks. The biggest: the battery adds significant weight to your phone. An iPhone 5 weighs 4 ounces (114g) but in the Aero case, it weighs 6.7 ounces (188g). The Aero case adds about 7/8 inch (22mm) to the overall length of the iPhone and nearly 1/4 inch (6.5mm) to its thickness.
iPhone cases are personal choices. If you are going to keep your iPhone in a battery case, it has to be one that pleases you. I have used the Energizer and Duracell cases and neither was very well made. The build quality was plastic-y, the fit was a bit loose, and there were big logos printed on them. The uNu Aero Case is solid with tight fitting seams and has a silky soft-touch coating. The logo is discreetly small on the back of the case.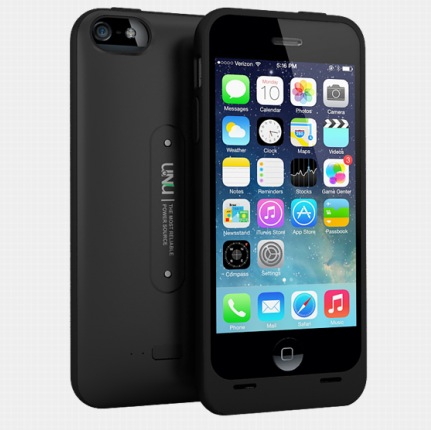 The uNu Aero Battery Case includes an aluminum charging mat that measures 5 inches (12.7cm) by 3-3/4 inches (9.52cm) by 1/4 inch (6.53mm). A micro USB cable that connects to any USB charger powers the mat when your iPhone is on it. Leave that on your nightstand, and just placing your iPhone in its Aero case on the mat will start the charging process. uNu sells additional mats for $24.95 so you can leave one at your office. The iPhone 5 battery life is approximately 8 hours, but it increases to an impressive 20 hours with the uNu Aero battery case.
Pros: Wireless convenience and 20 hours of battery life. It's ideal if you are traveling or attending an event where you will be using your iPhone extensively. Cons: Significant weight and size increase over an iPhone in a typical case.
The Unu Aero Battery Case is a good solution for the power-hungry. Because of its bulk, I find that I use it intermittently when I feel I might need more battery life than my iPhone provides. The additional battery power can be a lifesaver.
MyMac Review rating is 8 out of 10.