Pro Roller x100 Camera Bag
Manufacturer: Lowepro
MSRP: $369.99
Amazon: $267.95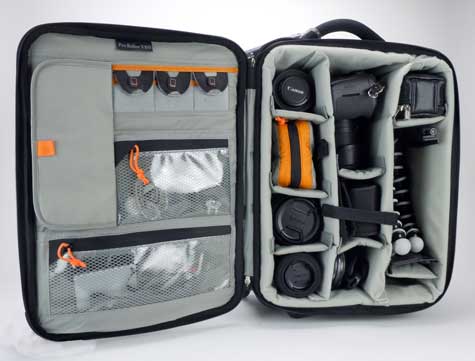 Current DSLR (Digital Single Lens Reflex) camera systems are smaller and lighter than their professional 35mm film counterparts. This does not mean that the need for a camera bag has disappeared. When you move a significant fraction of your gear to the photo shoot location, the Lowepro Pro Roller series is the way to travel.
My evaluation Pro Roller x100 is near the smaller end of the spectrum but it will hold all the gear that I am likely to need on location. This bag has movable padded dividers and can be configured to hold a couple of camera bodies and a selection of lenses, along with various flash units and accessories.
There are attachment points on the exterior to fasten a tripod or monopod to the bag and a special pocket for your iPad or notebook computer. The Lowepro specification page states that a 15" computer will fit. I tried it with my MacBook Pro and it was a very snug fit. Because your mileage and needs may vary, Lowepro offers multiple sizes and configurations in this line of bags.
Features of note:
Memory card pockets
Many bags include special pockets for memory cards but in this case they can be flagged to show whether the card is ready for use or full and should remain stowed until it is time to download the images.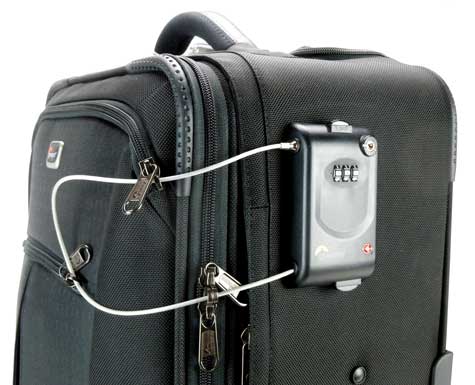 Zipper lock
There is an interesting combination lock on the side of this case that uses a cable to lock all the zippers securely from the opportunistic casual thief. Someone could still roll the whole case away but it will keep curious eyes and fingers from inside the bag.
Replaceable wheels and heavy duty locking handle
What a great idea! Something that is repairable. More companies should follow this example. Don't get me started on today's disposable society.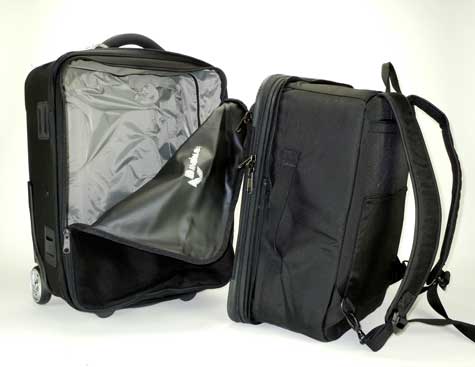 Removable camera section
The whole camera section can be removed and converted into a backpack. This may be ideal if you need to get all of your gear over rough ground to a remote location. Although it is not the best camera backpack in the world, it is good to have the option when needed. Have you ever come back from a trip with more stuff to fit in your luggage than when you left home? The folks at Lowepro have you covered here too. There is a sleeve on the back of the backpack section that allows it to slide over the handle of the wheeled section. This instantly gives you additional luggage space for all of those unexpected holiday purchases.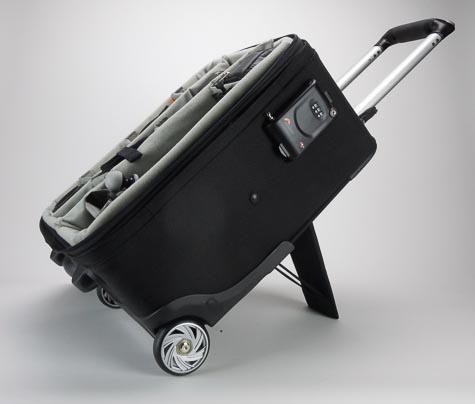 Kickstand
When the integral kickstand is extended from the back the bag is placed at an ideal angle to access the contents and keep the bag out of the dirt and muck so often encountered on location. This is another example of the thoughtful design process of Lowepro.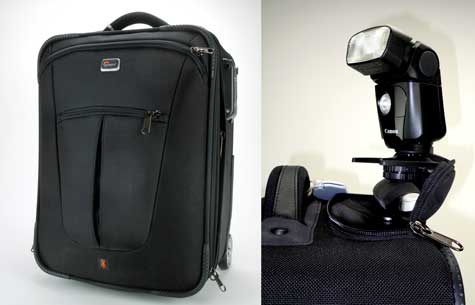 Camera mount in handle
Built into the handle is a mounting point that allows the Pro Roller x100 to be used as an impromptu tripod or light stand. This illustrates the vision the Lowepro designers.
Fit and Finish
Any bag, whether for cameras, computers or just luggage, that carries a price tag like this is expected to have a very high quality level of fit and finish. Lowepro excels here as well, almost to a fault. For example, the flap that covers the zipper allowing the backpack portion to be removed from the roller portion is very tight. This makes it difficult to join or separate the two sections.
The Lowepro Pro Roller series of camera bags will serve their owners and protect their contents for many years and miles to come. If you need to carry this much stuff, this is the way to do it.
MyMac.com Review Rating: 9 out of 10