A4 XW-SMA4-K Wireless Speaker
Company:Â Pioneer
Price: $199.00 MSRP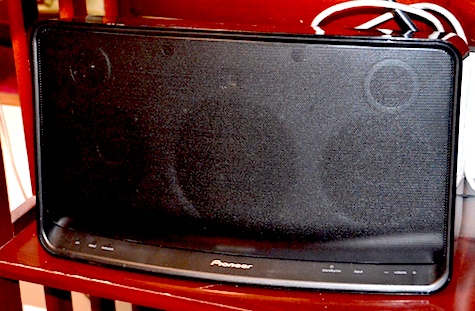 The wireless revolution is here. Speakers most of us are accustomed to, the ones connected to a receiver with RCA jacks, are gradually becoming dinosaurs as more companies offer speakers that require no wires whatsoever. Considering the horrible nest of wires tangled behind my TV and external speakers, I hope this revolution picks up stream.
Many companies now make wireless speakers. I spent a couple of weeks experimenting with Pioneer's A4 XW-SMA4-K Wireless Speaker (we'll call it the A4 for the rest of this review). The A4 has a built in subwoofer that delivers a thumping bass response and resonant audio, sometimes too resonant, at all lower frequencies. The bass is so powerful that I took the advice offered online and inserted one of my orphaned socks into the two holes at the rear of the unit to reduce the thumps to a level more in line with my taste.
I enjoy a wide variety of music from jazz to bluegrass, but most of the time I listen to symphonies or classical voice recordings. The A4 delivers mixed results for the classical music: somewhat too heavy on the bass even with the socks deployed; yet the mid-range frequencies are never less than pleasing. If you listen to music with a heavy beat and lots of percussion, you can forget about the sock trick and let this little speaker rock the dust out of your living room rug.
The A4 has Apple's AirPlay built in, which means you can control it wirelessly from the iPhone, iPad, and the newer iPods and desktop Macs. AirPlay does not work on older Macs like my 2009 MacPro. The Wi-Fi signal gets dropped after five or ten minutes. But it communicates fine playing iTunes tracks from my 2011 MacBook Pro. If you have an Android device, the A4 also comes with HTC, which allows you to stream music from your smartphone to the A4. HTC stands for a Taiwan outfit, High Tech Corporation, that manufactures smartphones including the Android. (We did not test HTC or Android.)
AirPlay is an Apple protocol that sends audio to the speaker, and it only works on Apple devices.
The A4 is compact but not exactly minimalist. A rectangle measuring 14-3/16 x 8-5/16 x 6-11/16 inches, it weighs a hefty 11 pounds. I planted mine in the living room and that's where it will stay. If you want something more portable, look around for a smaller Bluetooth speaker. There are lots of good ones on the market, though their range is not as extensive as the less common Wi-Fi/AirPlay speakers. Typically if you're using Bluetooth you have to be in the same room as the speaker, or very nearby. With the Wi-Fi/AirPlay speakers, you can send music from any place in your house where you have a wireless signal, which means the whole house for most people.
The A4 requires that you establish a connection to your home's wireless network before you can start streaming music to it. There are two ways to do this, both explained in Pioneer's convoluted user manual. The wireless direct method, which basically involves pressing one button on the rear of the unit, is easiest, if it works. (See below.) This method did not work for me so I used one of the Ethernet ports on the rear of the speaker to connect a cable to the ethernet port on my Wi-Fi extender.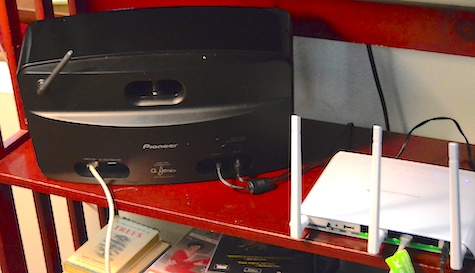 You can do the same thing by connecting the speaker directly to your router, but my router lives in my home office and the speaker lives in the living room. I was not prepared to run a 40 or 50 foot Ethernet cable through the house. The Wi-Fi extender looks just like a router and repeats the Wi-Fi signal so that you can cover a wider area in your home or business. My review of a recommended product is here.
Our reviews editor, John Nemo, was able to connect A4 to his iPhone 5 via Pioneer's quirky wireless direct method. Sound and performance were very good. Nemo advises users of this method to be aware that this method takes over your device's Wi-Fi signal, meaning your iPhone or other player can not simultaneously stream audio to the speaker and still be on the network for typical email, web, and iOS functions.
For this reason, MyMac and Pioneer agree that wireless direct is best suited for a party or travel or other special situation where ordinary Wi-Fi is not needed, or with a dedicated device that is not in day to day iOS usage. Be aware, as stated above, that the printed Pioneer instructions are comprehensive, but are not especially user-friendly for non-techies.
A4 XW-SMA4-K Wireless Speaker is a quality product with many more features than can be covered here. It's powerful enough to be heard throughout your house but nuanced enough for more intimate listening, too.
MyMac Review Rating is 8 out of 10