Zaggkeys Folio Keyboard for the iPad Mini
Company: ZAGG
Price:Â $79.99
The ZAGGkeys Folio has been updated. The new Folio keyboard is thin and is slightly more than a quarter of an inch. The Folio is approximately two-thirds of an inch thick with the iPad enclosed in the case. The Bluetooth keyboard utilizes a 510mAh rechargeable lithium polymer battery that lasts several months during normal use without charging.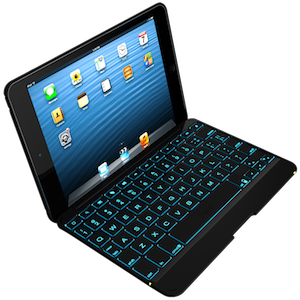 One new feature should get cheers from Folio fans. The kickstand is gone. The new Folio has a fully adjustable viewing angle. There's no tipping over and no awkward positioning on your lap. The textured faux leather prevents the case from moving on smooth desk surfaces and slipping out of your hand. The Folio is available in two different colors, black and white.
The iPad mini easily snaps into the Folio cover. Once inserted, the cover and keyboard completely cover the iPad. Closing the Folio activates the sleep feature of the iPad, preserving battery life. Opening the Folio wakes the iPad.
The rechargeable battery is reported to last up to three months. I was not able to validate this because I've only had one month to evaluate the Folio. I can confirm the batteries of ZAGG keyboards that I had in the past lasted for months before requiring a charge.
The Folio keyboard has a standard layout. This was accomplished by making some of the keys smaller. The keyboard has been designed with special function keys: the iPad home, lock, and keyboard hide/show keys, copy and paste keys for editing, playlist tracking and volume keys. These keys eliminate the need to touch the iPad screen. The Folio also features backlit keys with seven different colors of backlighting and three brightness levels. Pairing the iPad to the bluetooth keyboard is a simple three step process:
Turn on Bluetooth on the iPad.
Press the PAIR button on the Folio keyboard. A blue LED light flashes until the Folio and iPad are paired.
 The iPad will display "ZAGGkeys Folio" as an available device. Select the Folio to complete pairing.
A major issue I had with the ZAGGkeys Folio is the weight. The 11.3 oz. is significant in comparison to the 5.1 oz Apple magnetic cover. The 7" keyboard is nice but I found it to be too small for any more than an occasional use. The price, has recently been reduced to $79.99, from $99.99,  just in time for the holidays.
Anyone searching for an iPad mini keyboard will find the Folio is a high quality, fully featured product. ZAGG has a reputation for producing quality accessories
MyMac Review Rating is 8 out of 10