2 Handset Connect-To-Cell Answering System
Model: DS6521-2
Manufacturer: VTech Communications
MSRP: $59.95
2 Handset Connect-To-Cell Answering System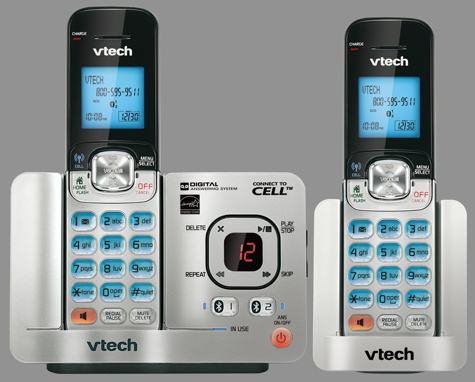 This VTech Connect-to-Cell phone can be paired with up to two Bluetooth mobile phones so that both incoming landline calls and calls on your iPhone can be answered on its handsets. In addition, you can choose to place cellular or a landline calls from these phones.
Accessing your mobile phone via the Connect-to-Cell feature works just fine. The question is: Why would you want to place a cellular call from your "home phone"? It seems to be a solution for which there isn't a real problem. Sure, there are times when your mobile phone is in another room and it's more convenient to answer from the nearest phone, but if you own a mobile phone, chances are that it will be close at hand at all times.
Apart from this Connect-to-Cell feature, how are the other features? As it turns out, most are pretty good. It is a DECT6 phone which briefly means that it is less prone to interference from other electronics in your home. In addition, it offers a greater range from the base and the ability to utilize multiple handsets.
The base unit contains a digital answering system. If an answering service is already provided by your carrier, you can simply ignore the built-in answering system. This VTech phone has many of the other usual features: Caller ID (up to 50 previous callers), Call waiting, Speakerphone, Intercom, Voicemail waiting indicator, nine number speed dial memory, 14 minute recording capacity, phone and ringer volume controls, and many more of the features expected from today's phones.
An interesting capability is built into the system; you can download up to 200 contacts from your iPhone into the VTech memory. With this comes some problems. I found it awkward to scroll through all these contacts once they were in memory. You have to type a letter to navigate to the corresponding alphabetical section of the contact list. Then the contacts are arranged by first name, not last: George Smith is filed under G, not under S. The phone numbers you will see for each contact are not differentiated between Home, Work, and Mobile numbers. These are unfortunate failings.
The keys are backlit by bright blue LEDs but the screen is backlit very weakly. Brightness is fine in the dark but in a well lighted room, I find the screen hard to read. The sound quality is OK and the cradle holds the phones upright so they are easy to grasp.
All in all, this is a decent phone system but if you don't need connectivity with your mobile phone and your carrier provides an answering service, there are other phones, many by VTech, that may serve your needs better.
MyMac Review rating is 6 out of 10.