Fix In-Ear Headphones with Mic3
Skullcandy
Price: $36 to $60 online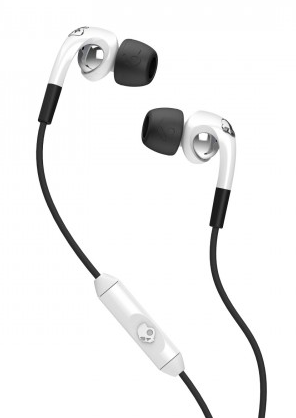 The big selling point for these Skullcandy Fix In-Ear Earphones is their remarkable ability to comfortably remain fixed  in your ears when you're exercising. I tried them while on a treadmill and also on a bike ride, and neither sweat nor bumpy asphalt caused them to dislodge. Fix headphones really are comfortable. Nice!
No matter how well earbuds stay in place, they're useless if the audio quality is terrible. Fortunately, I think only audiophiles will object to the audio quality these buds deliver. Bass comes across well balanced if a trifle muddy at high volume, but certainly not enough to bother the average user. Overall, the sound is rich without being over-bearing.
Skullcandy Fix affordable earphones come with a built in mic that works well, but you'll have to memorize the position of the buttons because the switch is placed too high to see when the buds are in your ears. This is a small matter, however, since it doesn't take more than a minute to figure out the buttons that increase or lower the volume or that interrupt the music to enable you to take or make a call if you're using Fix earphones with an iPhone.
MyMac Review Rating is 8 out of 10