Intensify Pro
Developer: MacPhun
Mac App Store price: $59.99
Intensify Pro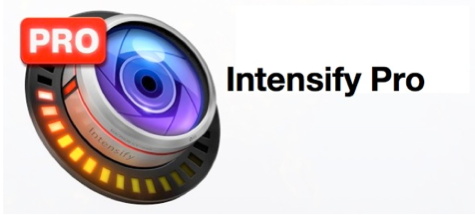 Adobe has chosen to charge for Photoshop use of its professional Creative Cloud software on a subscription basis. This monthly fee is beyond the reach of many small businesses, semi-pro photographers, and home users. As a result, a flock of new photo editing applications are rapidly being released. The quality and features of these new downloadable competitors range from inexpensive one-trick ponies to comprehensive full-featured editors.
MacPhun has recently introduced Intensify Pro. This application allows you to enhance  your images in a wide variety of ways. The examples below show the Intensify-ed version on the left and the original photo on the right. These are both unaltered results of some of the many presets available: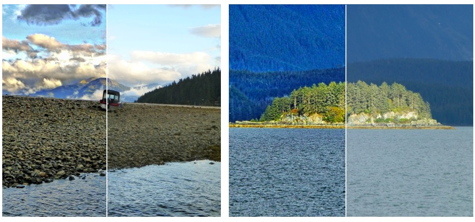 MacPhun already has a number of very capable photo applications in their arsenal: SnapHeal/SnapHeal Pro, FX Photo Studio/FX Photo Studio Pro, and ColorStrokes. Intensify and Intensify Pro add strength and versatility to this family of photo apps.
Intensify Pro starts you off with seventy presets including Balanced Tones, Shadow Saturation, HDR effects, Denoise, and many more. Most of these are excellent but there are a few clunkers. Select any of them and you have the option of opening a panel containing eight granular adjustment palettes. Each of these utilizes sliders for tweaking saturation, contrast, sharpness, structure, temperature, and a dizzying array of creative alterations. When you arrive at settings that you like, you can name and save them as personal presets. If you are familiar with the processes, you can also work with layers and masks as you would with the Adobe apps.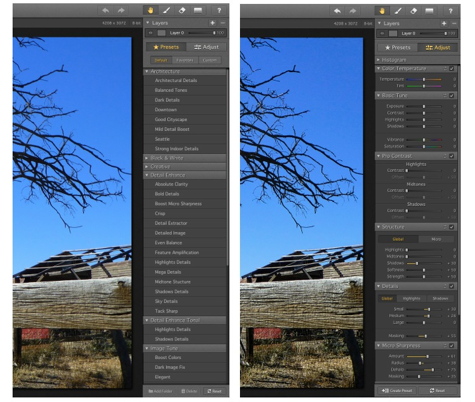 Intensify Pro can be used as a stand-alone app but it also contains plug-ins for Adobe Photoshop, Photoshop Elements, Lightroom, and Aperture. In addition, Intensify Pro can read RAW images and will open .PSD files directly.
If $59.99 is too steep and you don't really need the plug-ins, a simpler version with most of the other features called Intensify is available in the Mac App Store for $29.99. If you bought this version from the Mac App Store and find you want to upgrade to the Pro version, you can do so here.
Intensify Pro is capable of achieving many of the effects that Photoshop CC or Elements can be coaxed to do, but at a lower cost. Some of the results are stunning: landscapes in particular. Portrait improvements are less impressive. I find that many of the presets seem somewhat over-sharpened but that's what the adjustment sliders are for. You can adjust any or all of the many settings depending on your photograph and your personal preferences.
MyMac Review rating is 8 out of 10