Glide One Strap System with Black C-Loop
Price: $64.95
M-Plate Pro + Hand Strap Attachment
Price: $74.95
ProDot Shutter Button Upgrade
Price: $7.95
Company: Custom SLR
I recently had the chance to use a few items from Custom SLR for photographers. This review is a compilation of my findings. One thing I want to mention up front: Custom SLR is very proud of their logo and it appears everywhere on their accessories in subtle ways. That is a very nice touch, even if it does not add functionality to the accessories themselves.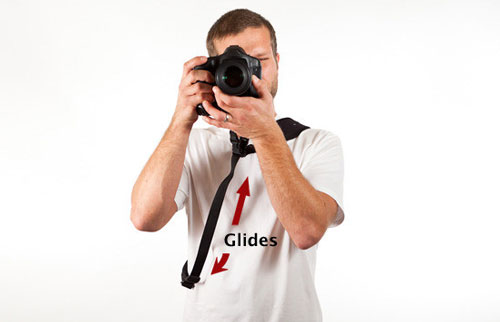 Glide One Strap System with Black C-Loop
Whenever I buy a new camera, the strap that comes with it never gets taken out of the box. I just hate the standard camera straps. They are mostly provided as a convenience item before anything else, and have not been designed for comfort or usage. Therefore, I look to third party strap providers.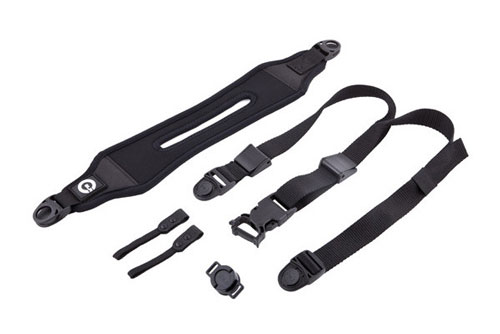 I've been testing a few different models and brands, and looked also at what professional photographers are using. My preferences always ended up with sling straps that cross my chest, with the camera hanging on my hip the opposite side of my shoulder where the strap hangs. From there, I can sling my camera from my hip to my eyes without too many gymnastics. Finding a good system that works in that scenario is not as easy as it may sound.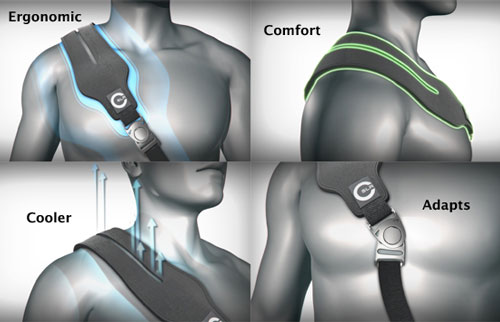 Custom SLR Glide One Strap is one of the best solutions I have used. First, the Split Strap Technology is a well thought design. Having a large strap on the shoulder makes it more comfortable when hanging with a heavy camera and lens. But larger straps can make your shoulder wet by keeping in your body heat. The Split Strap design makes for t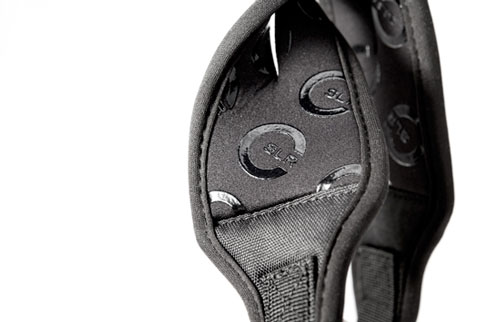 he best of both worlds: it provides a large area on your shoulder for additional comfort, while providing a hole in the middle for the heat to dissipate. The backside of the strap is covered by multiple Custom SLR logos in a sticky silicone material that helps the strap stick to your shoulder.
On each side of the Split Strap there are two large buckles where you can attach the sling part of the Glide One Strap. When clipped-in, the strap can pivot around to follow your movement; this way the Split Strap stays placed on your shoulder instead of moving with the camera movements. Two Glide Strap Stoppers are also provided to prevent your camera from sliding too far away on the Glide Strap.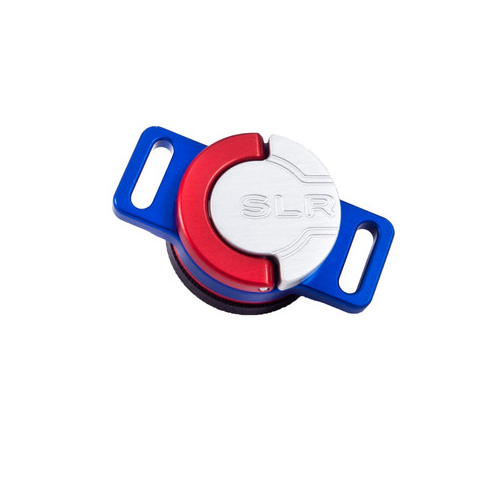 To complete the set, a C-Loop is included to attach to your camera. The C-Loop is available in black or silver, as well as a Limited Edition Freedom C-Loop. The design of this little accessory is as simple as efficient. The bottom of it is a standard screw for tripod attachment with a large and thick rubber washer. It is built so the C from the Custom SLR logo can be used as a handle to screw the C-Loop under your camera or to the M-Plate Pro (see below).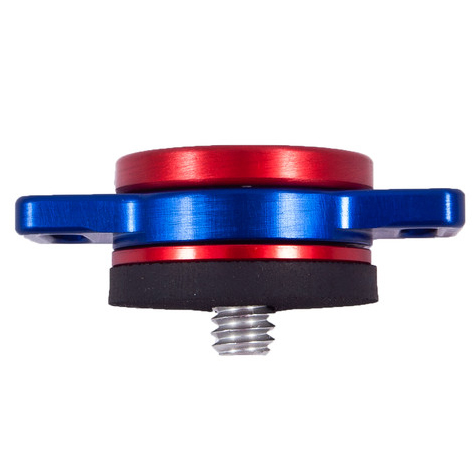 To attach the C-Loop to the camera strap, use the provided Glide Strap Buckle and Connectors. It attaches to the side holes on the C-Loop and provides a buckle that snaps into the connector attached to the Glide Strap. My main disappointment is that the C-Loop's beautiful design is somewhat lost when you attach the buckle to it (see images below).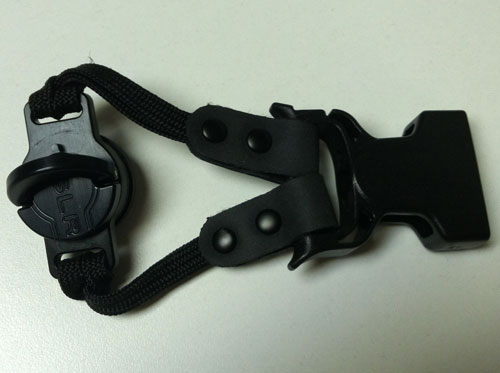 I can say the Glide One Strap System with Black C-Loop is probably the best gliding system I ever used. Especially when paired with the M-Plate Pro, it feels like something that has been conceived from beginning to end. The whole kit provides a pleasant shooting experience, while keeping comfort as a given without compromise. At $64.95 for the kit, it's a decent price for what you get.
MyMac Review Rating: 9 out of 10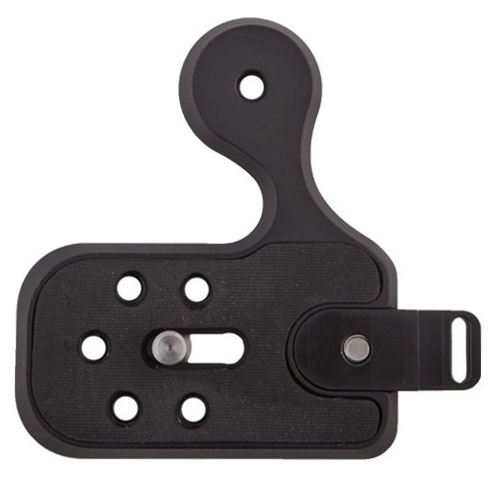 M-Plate Pro + Hand Strap Attachment
The M-Plate Pro is, as its name implies, a plate that attaches to the bottom of your camera where you'd normally screw in a tripod. It aims at replacing most of your tripod or monopod head attachments by being compatible with popular Manfrotto RC2 or Arca-Swiss mounts. If you are using any compatible head, you don't need to attach the mounting bracket that comes with your head. Your camera is always ready to mount on a tripod, which makes it quicker to shoot.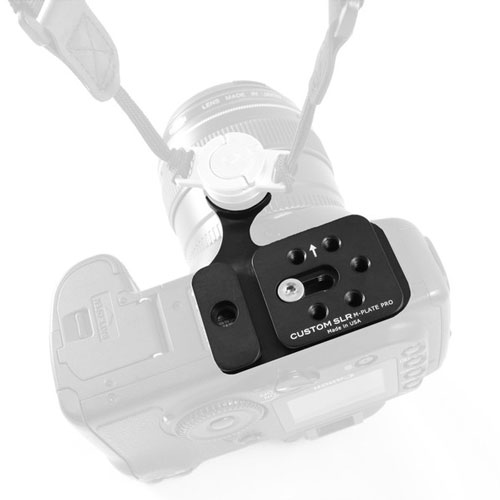 One key feature of the M-Plate Pro is the mounting positions for the C-Loop (not included). The plate is built so that the frontmost screw hole is in front of the camera, just under the lens. When you screw the C-Loop into that spot and use your camera with a small zoom lens, the camera and lens are in a stable horizontal position. There is no more uncomfortable camera and lens bumping your side. One other advantage of this plate is when you place your camera on the table, the camera sits leveled, not falling on its front with the weight of the lens. Only problem: you'll have to remove the C-Loop to obtain this result.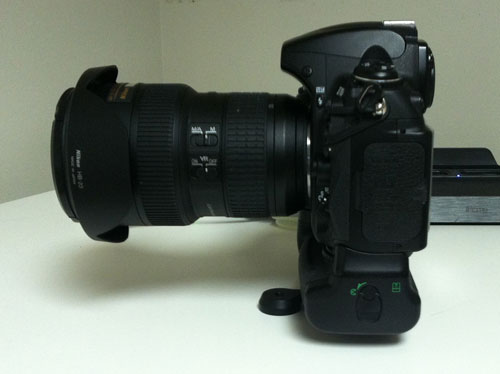 I could not test the Arca-Swiss mount, as I have no compatible heads. But I tested it with two of my Manfrotto heads: a 222 and a 804RC2. As stated previously, the M-Plate Pro is compatible with most RC2 mounts, including the 222 I possess, but I sadly realized the 804RC2 is not. It is because the design of the 804RC2 does not allow the prolongated C-Loop mount of the plate to fit in. It is inconvenient, but it is not a major issue, since the M-Plate Pro provides six screw holes to mount a standard RC2 plate from Manfrotto.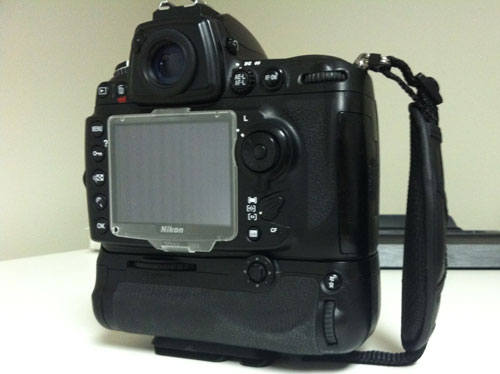 Another nice addition to the M-Plate Pro is the optional Hand Strap Attachment that screws in on the side of the plate. I'm a big fan of having my camera solidly strapped to my hand. This little add-on provides a loop-hole where you can attach the hand strap to the bottom of the camera body, while the other side of the strap will attach to the camera standard strap handle. Custom SLR does not sell any hand strap so you'll have to provide your own. Once put in place, the M-Plate Pro's solid attachment to the camera's body makes the handle very sturdy and comfortable to use. The price tag of $74.95 may be high, but once you try it, you'll value it highly.
MyMac Review Rating: 8 out of 10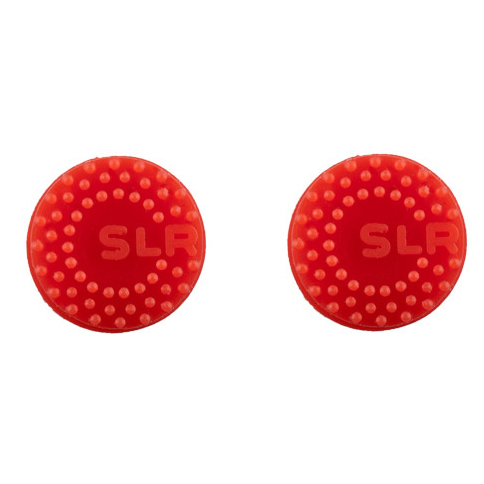 ProDot Shutter Button Upgrade
There are some items that just work, but you just can't explain why. This is the case with the ProDot Shutter Button Upgrade. This accessory is very simple to describe: it is a rubber dot that sticks on your camera shutter button. But what it does is more difficult to put in words.
It's roughly a quarter of an inch thick. The top of it has soft spikes that add comfort to your finger, and a better feeling when taking a shot. What I have discovered by using it, is that it makes the feel of shooting way softer. For instance, pressing the shutter half-way to focus the lens is more intuitive with the ProDot Shutter Button Upgrade, and prevents me from pressing more than required so I do not accidentally shoot before the focus is made.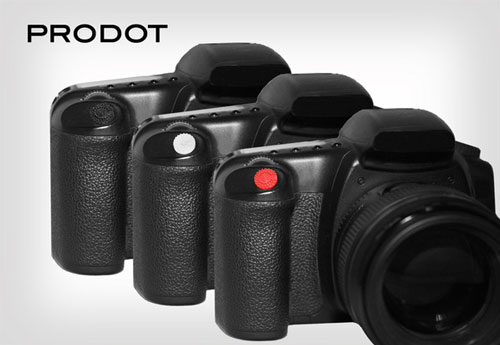 When I was asked to evaluate the ProDot Shutter Button Upgrade, I was skeptical at first. When I installed it on my camera, I was immediately under its charm. It is a very subtle upgrade for your camera, but one that works really well. My only complaint is that the sticker is not Crazy Glue, and it may detach when manipulating the camera (say, in-and-out of your bag). I lost the one placed on the shutter button of my battery grip and I don't know when or where it happened. Its price of $7.95 may concern you, but you should try it before you say no.
MyMac Review Rating: 9 out of 10
Final thought about Custom SLR
Before writing this review, I never heard of Custom SLR. But now that I know them, I'm certainly going to follow their new products as they come along. What I like about the company is how their products are modular. For example, the M-Plate Pro comes by default without the Hand Strap Attachment. At first I asked myself why it was not standard. But when you look at it, for someone who does not want to use a hand strap, that would be in the way. Furthermore, the port can be used for other accessories that can be implemented for the M-Plate Pro in the future.
You'll also notice that the Split Strap can be used in many ways when you look at this page on their web site. For instance, one can buy the optional Laptop Strap Attachments and use it to carry a laptop with a more comfortable shoulder strap, or even use that accessory to attach to a camera bag while commuting with the Slip Strap. When on the shooting site you can remove the Split Strap from the bag to shoot with the Glide Strap.
This little company should be on your watch list.