iFrogz Coda Forte Bluetooth Headphones with Mic
Company: ZAGG
Price: $99.99 USD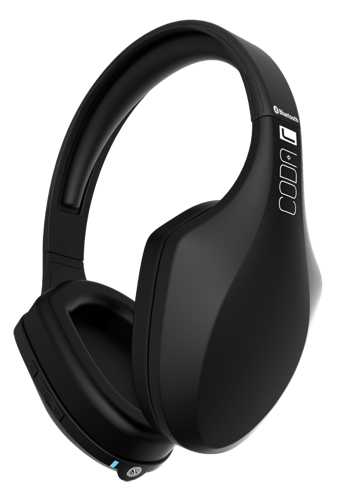 With the dramatic increases in technology and the portability of the devices that we have come to depend upon in our daily lives, logic dictates that the capability to listen to music or to have a telephone conversation would also have to improve. Bluetooth headphones have quickly become a necessity for users as they don't wish to be "tied" physically to their devices.
iFrogz's Coda Forte Bluetooth headphones are the latest product to be introduced to the consumer public and consumers should be happy. The Coda Forte's are lightweight, fit over your ears without being too snug and work great with any device that is bluetooth capable. One of the best things about the Coda Forte's is that the units have a 12 hour battery life. The headphones are rechargeable with the included Micro USB cable and they only take a couple of hours to recharge. The headphones are adjustable and if they fit me, they will fit anyone else.
The headphones include a cloth carry bag, the Micro USB cable and a 48" cable with 3.5mm plugs for use if the headphones have not been recharged. The headphones are controlled by a power on/off button and a up/down button that controls volume and track selection of your music. Syncing of the headphones with an iPhone or iPad is simple; have bluetooth turned on in your device, press the power on button for 8 seconds and you are up and running.
I would advise anyone who does purchase these headphones and sets them up on a Mac to make sure that when you have synced the headphones with your Mac, open up the System Preferences, go to the Sound panel, and make sure that you choose the iFrogz Coda Forte STEREO Bluetooth Headphones in the Output tab. If you don't, you will wind up listening to your music in Mono and it just doesn't come across correctly.
I have used the headphones with my older iPod utilizing the cable while I'm working out. The headphones remain on my head, no movement to fall off. I have used the headphones with my iPhone and iPad, syncing is fast and easy, quality of sound is excellent. I used the headphones with my MacBook Pro; again syncing is fast and easy. The only issue that I had at all was when I used the headphones with my 2011 Mac Mini. I would experience breaks in the connection while listening to music or a video for a while. However, after not having any issues at all with all the other devices, I did a search and found that there has been a continuing discussion online and in the Apple Forums of users experiencing the same issue that I was and that has been an ongoing problem for quite a while. The problem is not with the headphones but with the Mac Mini and Bluetooth. No matter what the price of any headphones that you may purchase, you want to have good sound quality. With the Coda Forte headphones, bass is present and you can enjoy mid tones without having to strain to hear them. Relax and enjoy.
Another great aspect of the headphones is that they contain a built-in microphone that allows you to use the headphones as part of a hands-free system with your iPhone or other device. The 48" cable that is provided also has a microphone included which allows you to have the capability to use the headphones with your iPhone/iPad even if you have not recharged the headphones. If you are listening to music and a call comes in to your iPhone, you just press once on the Power button to answer the call. Finished with the call, press once and you're disconnected and you are back to your music. If you want to ignore a call, just hold the Power button for 2 seconds while the phone is ringing and you're set.
Another great use of the headphones is for dictation with your Mac or iPhone, be it by Bluetooth or via use of the cable. On your Mac, again go to the Sound panel in System Preferences and under Input, select iFrogz Coda Forte. If you are using the provided cable, select Line In, and you are set. Again, the only issue I had was with my Mac Mini which would not accept audio in but does great with Bluetooth dictation. When I plug the headphones in my MacBook Pro, they work exactly as they should.
Now the Coda Forte's are not noise canceling so if you are traveling, you will hear ambient noise, especially while on a plane.  The Bluetooth range that I found was a maximum distance of approximately 24 feet.
Specifications:
Driver unit – 40mm neodymium
Impedance – 32 ohms
Sensitivity – 102 dB +/- 3 dB at 1 kHz
Cord length – 48 inches
Headphone ear cup size – 3 1/4" L x 2 3/4" W (max)
Supported Audio technologies – aptX, MP3, SBC, AAC and Faststream decoder
The Coda Forte headphones come in four colors-Â  Black, Blue, Pink and White
All in all, based upon my use and its capabilities, I give the iFrogz Coda Forte Bluetooth headphones a My Mac rating of 9 out of a possible 10.