Ergotron WorkFit-P for Apple – Nemo Memo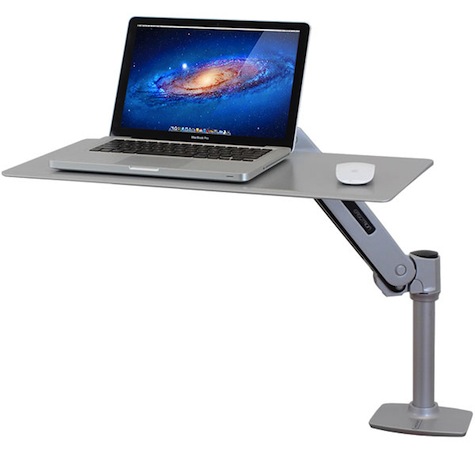 Professors, workshop leaders, trade show reps, and public speaking professionals now have the best possible movable platform available for their Macintosh laptop computers and iPads. Ergotron's exceptional new WorkFit-P for Apple is priced just over $300 and is worth every penny. If you respect its few quirks, it will support your precious Apple portable gear for years during thousands of presentations.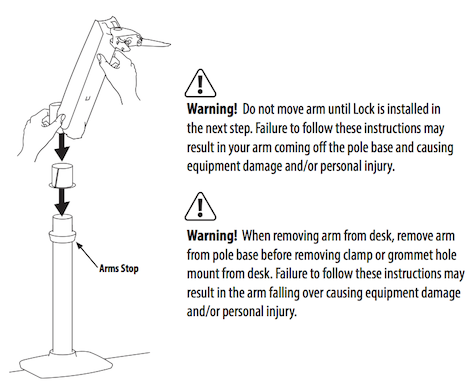 Installation is tricky. Read through the included printed guide two or three times before you get to work. An extra pair of hands is recommended, belonging to a calm person. Contact the company if you have any questions. WorkFit-P installs best in a permanent location on a sturdy desk or table, although it can be moved and re-installed with some effort.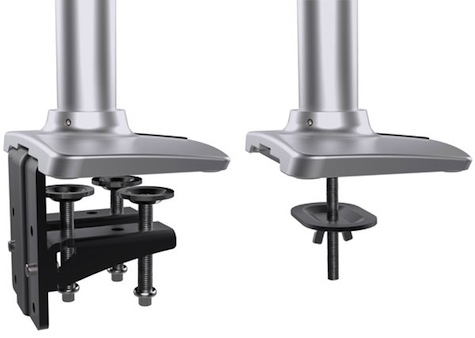 All necessary tools and components are supplied. You will begin by screw-mounting or clamping the base column to your table. Then you assemble the main movable arm unit that has a potentially dangerous two-pronged end segment. Be very careful; I gouged my table when I made a newbie mistake with this arm and its prongs.
Erogtron is a splendid company for customer feedback and improvements. After my near-disaster, their product team and graphic designer revised the printed instructions to make them both accurate and full of safety tips.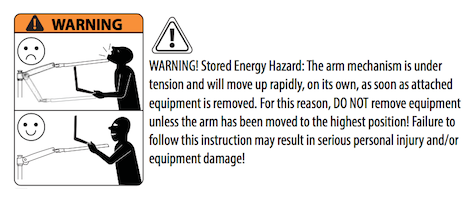 An attractive solid aluminum large platform is placed and screwed into the prong end of the movable arm, and within a couple of minutes the user is fine-tuning WorkFit-P's device support in an almost infinite range of positions.
The large platform is big enough for a Mac laptop plus mouse, as needed, and/or an iPad. Use common sense, don't put too many gizmos on the platform, and anticipate your arm and body movements, all for optimum positional awareness.
Allow a few days to become accustomed to having this industrial-strength platform, arm, and column in your physical workspace. It's not as massive as the Starship Enterprise, but it is big with some sharp edges, and it can not be ignored even when it isn't being used.
I conducted my first iPad seminar two days after installing and adjusting WorkFit-P. Everyone in the small classroom could see me and my demo gear throughout the session. I warned them upon entry not to venture near the platform, and they behaved themselves as well as a bunch of feisty 70 and 80 year old iPad students can be expected to do.
GUIDE http://www.ergotron.com/Portals/0/tp/R1/WF/888-45-307-G.pdf