Harpoon Daypack
Manufacturer: ECBC
Model: B7101
MSRP: $99.99
Harpoon Daypack
Mac users want products that are all about thinness, sleek design, minimal weight, and high quality. It's obvious that ECBC took us into consideration when engineering the Harpoon Daypack. This ECBC daypack is worth a close look if you commute to work or to an institute of higher learning.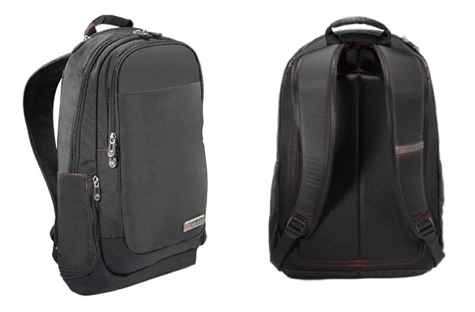 The Harpoon Daypack is 18.5″ by 12.1″ and is a slim 6.2″ thick. A 15 inch MacBook Pro plus an iPad in a case measure less than two inches in thickness. They both fit snugly in their own compartments in the daypack. That leaves ample room to spare for paperwork, a book or two, and the usual collection of necessary cables and peripheral devices.
The daypack weighs in at a little over a pound. The same two items above weigh a total of about seven pounds, but doubling that for paperwork and gear means that on a day-to-day basis, carting fifteen pounds to work can become a burden.  Here's where the Harpoon Daypack comes to your rescue. The daypack has a handle. A comfortable one. An ordinary backpack only has a strap on top even though much of your carrying time involves gripping it with your hand. In addition, the shoulder straps are padded for two-shoulder hiking as well as the more typical one-shoulder scurry from one place to another.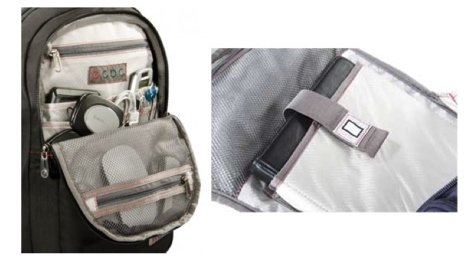 The Harpoon Daypack has three main compartments, all lined in light gray rip-stop nylon that makes it easy to see small items hiding at the bottom. Starting from the back, there is a large storage area with a well-padded enclosure that will hold up to a 17 inch MacBook Pro. There is also a fleece-lined pocket with Velcro closure for an iPad, plus a couple of inches of usable space between the two for books and paperwork. Above the iPad pocket is a mesh compartment with a zipper for small items and cables. The middle compartment has nine separate pockets; the full-height main area is for storage.
On the two sides there are: a nine by six inch and a nine by five inch Velcro-sealed pocket, a five inch by five inch open pocket, five narrow pen and pencil pockets, and another zippered mesh compartment with a key hook on a lanyard. The large front pocket is perfect for quick access to tickets, documents, and maps.
There are times when carrying a water bottle is necessary. This is certainly true here in the USA desert Southwest where I reside. The pouches for this purpose are often bulky/dorky-looking. The Harpoon Daypack has two fitted mesh pockets for bottles that are almost invisible when zipped shut and not in use. A nice touch. Another thoughtful feature is a small fleece-lined pocket with a zipper under the handle at the top of the pack for sunglasses, a camera, or an iPhone.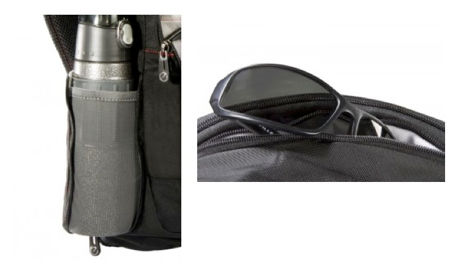 The pack is made of ballistic nylon with a weather-resistant coating, 840D for the body and rugged 1680D for the base. The compartments utilize heavy-duty YKK zippers. The back of the pack is nicely padded with full-coverage mesh for ventilation. The same mesh lines the inside of the two shoulder straps. These straps adjust with plastic buckles that, unfortunately for me, poke uncomfortably between my ribs and underarms. If I loosen the buckles, the straps don't sit comfortably on my shoulders. Depending on your size, this may or may not not be a issue for you.
The Harpoon Daypack is lightweight, rugged, very well engineered and constructed. If you are looking for a commuter bag that will double as a hiking pack on weekends this is an excellent choice depending on how the shoulder straps fit you.
MyMac review rating is 8 out of 10.