Mirrorless Mover i30 Camera Bag
Company: ThinkTank Photo
Price: $69.75 USD
http://www.thinktankphoto.com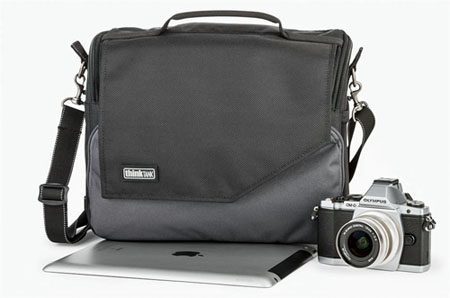 A long time ago, when I first became interested in photography, there was a lot to carry around if you were really interested in doing things the right way. You had your camera, the flash attachment, spare canisters of film, filters, lenses, more film and even a tripod to set your camera up on. Oh, and let's not forget the camera bag itself which was about the size of a small foot rest (15"x8"x11"), made of leather or faux leather and weighing a ton when all was said and done.
With the advent of digital photography, a lot has changed besides the camera equipment. The camera bags themselves underwent a change for the better. New lighter materials made carrying around your camera equipment a lot easier and provided for new ideas on what should go around with the photographer.
A good example of the change is ThinkTank's new Mirrorless i30 camera bag. Specifically designed for mirrorless camera systems such as the Fuji X–Pro 1, Leica M8, Panasonic GH3 or similar sized/smaller bodies, it can also carry small DSLRs such as the Canon Rebel, Nikon D3200/D5200, Sony SLT–A55/A37 or similar sized camera bodies. The exterior is composed of ballistic polyester and all additional items are made of non-plastic materials. The interior of the unit is also polyester and permits removal of closed cell foam dividers so that the user can set up the bag to his or her usage needs. Besides a removable shoulder strap, the i30 is also equipped with a belt loop for those who don't wish to carry the bag over their shoulder and prefer to have their gear on their hip. ThinkTank has even provided a coated nylon rain cover for the bag.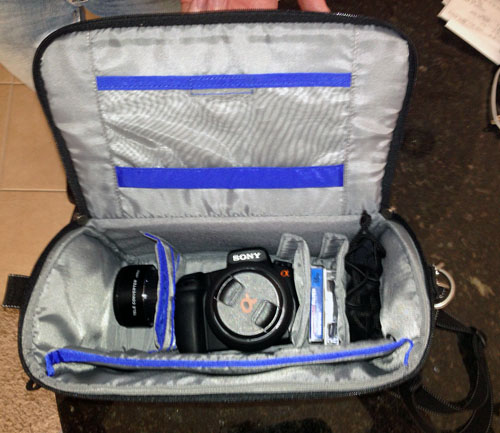 The i30 bag also provides a slot for your smartphone, two SD card slots and a pocket specifically designed for an iPad although I'm sure that a comparably sized tablet would also fit in the pocket. I have found that having an iPad available to easily download any new pictures off of the SD card and to be able to upload to the web to be a great asset. Rather than passing around a camera to friends or family once pictures have been taken, it's a lot easier to download on to an iPad and pass it around for better viewing.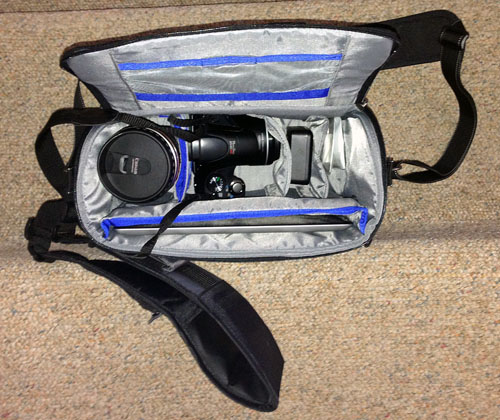 To give the bag a workout, my son and I tried out the bag on different occasions. The bag was used during visits to museums, the beach and just walking around in the city. He used it to carry around his Sony Alpha 350 DSLR, a teleconverter and filters while I used it to carry my Canon PowerShot SX40HS, camera strap, battery charger, iPad and at times even my Canon lens look-alike coffee mug. Walking around with the bag on the shoulder presented no problems; items inside were readily available for use. Access was easy by use of the zipper, access setup dependent upon the way the interior is configured by the user. ThinkTank's design that the bag can easily be reconfigured, dependent upon what the user is carrying inside, makes this bag a winner for ease of use, flexibility and capability.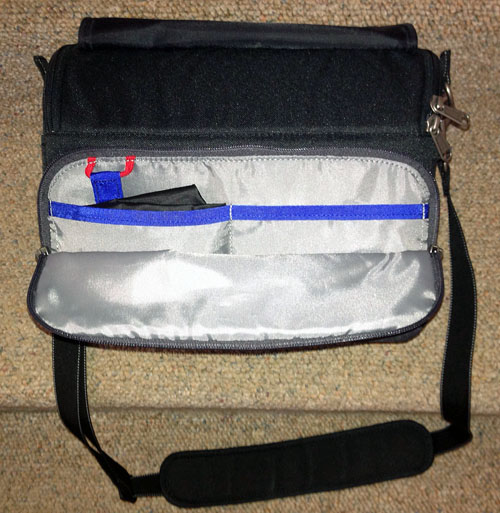 The front zippered pocket is set up for accessories or other items that you may wish to carry, say a cell phone. The magnetic closures on the flap that covers this pocket make sure that this pocket is basically hidden from view. There are stretchable side pockets on the exterior of the bag that you can easily carry a water bottle and a grab handle on the top. ThinkTank also provides a mesh pocket on the bag's lid for camera batteries or other accessories. While designed to fit the smaller compact mirrorless cameras, this bag provides flexibility and portability yet entails craftsmanship that gives you quality for your purchase.
Specifications:
Weight: 1.0 lb
Interior Dimensions: 10.6" W x 8" H x 3.9" D (27 x 20.5 x 10 cm)
Exterior Dimensions: 11" W x 8.9" H x 5.7" D (28 x 22.5 x 14.5 cm)
iPad pocket: 9.8"W x 8.1"H x 0.9" D (25 x 20.5 x 2.3 cm)
Smart Phone Slot: 2.8" W x 5" H x 0.6" D (7 x 12.7 x 1.6 cm)
Bag is black/grey in color.
By the way, ThinkTank is raffling off a brand new Apple®  15″ MacBook Pro Retina along with one of their My 2.ND Brain laptop cases and with their new Powerhouse power "brick."Go to http://blog.thinktankphoto.com/2013/09/where-would-i-be-without-you/  and enter by October 1, 2013.
All in all, based upon my use and its capabilities, I give the ThinkTank i30 Mirrorless Camera Bag a My Mac rating of 8 out of a possible 10.