Adobe Photoshop CC for Photographers – A professional image editor's guide
by Martin Evening
Focal Press
ISBN 978-0-415-71175-3, Â 792 pages
$55 US, £30 UK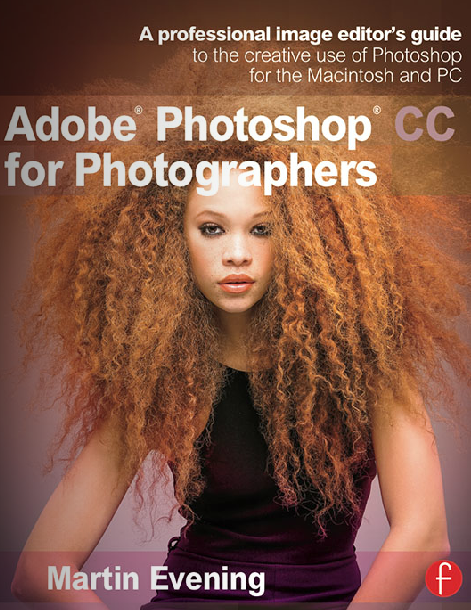 There is Martin Evening and there is everyone else when it comes to learning and understanding the professional version of Adobe Photoshop. From his 16 page detailed table of contents to his 17 page equally detailed index, Martin provides everything essential for newcomers and experienced users of Adobe's new CC photo enhancement software.
He concentrates on using Photoshop with Camera Raw, Bridge, and all the new features added in this Creative Cloud, or CC, update. The information is encyclopedic in the best possible way, including every possible mention of keyboard commands for both Mac and Windows users. I've been teaching Photoshop for over ten years, and I learn something new on almost every page in Adobe Photoshop CC for Photographers.
Martin is a teacher and much more. He explores Photoshop from scratch, to make sure his book is "relevant to the kind of work most photographers do." He considers the "typical Photoshop workflow" with an emphasis that "the best tools … are often the simplest."
The writing is clear, lucid, and easy to follow in a personal and conversational way. If you are new to pro Photoshop you'll feel Martin's friendly guidance in the early chapters, and if you have skipped some versions you will be comfortable with his references.
Examples:
• Do you know how to master the little document status information box that appears in the far lower left of the workspace window?
• Did you know you can customize Photoshop's Menu Bar, or modify the entire look and feel of the interface?
• Do you know how to save, reuse, and share Tool Presets?
• Are you aware you can create custom brush panel settings and much more, with the Brush panel options?
The physical book has first-rate production values, including thick paper stock for years of use, plus high-quality illustrations. You'll need good eyes and lighting to spend any length of time reading the sans serif text that is without any bold or italic variation for menus and commands. An interesting 2/3 and 1/3 page design allows for primary and sidebar material, the latter being loaded with information that supports the former. Page corners are color coded to help readers keep track of where and what they are reading.
Martin tells MyMac that he is "pleased with the production on this book and actually notice the book is slightly thinner than the previous edition, although it has more pages. This is a good thing as it is now easier to leave the book opened at a page and have it stay open. Color reproduction also looks good in my view. The ebook version, which I was shown a preview of yesterday also looks good. I think this will read well on a computer or tablet.
There is no DVD provided. Extra content is online. The dedicated web site adds value to the reasonable price, with demo images, movie tutorials, PDFs, keyboard shortcuts, and all Tools and Panels. Both the book and the web content will be updated as appropriate with Adobe's quicker version release timetable. The generous author provides his personal email and Facebook contact information, in addition to thanking his readers.
Chapter after chapter, Photoshop CC's richness is conveyed. Detailed explanations are given on all the tools, on working with layers, and on using automation. File formats and optimum methods of saving images are covered, as are physically configuring your work area, calibrating your equipment, and embracing color management.
A massive unit delves into best settings of the bazillion different Preferences. Other sections teach readers tethered shooting, working with smart objects, plus sharpening and noise reduction. Learn to master content aware scaling, retouching, and the all-important skills for working in black and white and HDR imagery.
Are you already a Photoshop CC expert? Probably not. Martin Evening is. This book gets a strong recommendation, with a suggestion in future to use a slightly larger, thicker typography, plus menu and commands in bold or italic.
MyMac Review Rating is 9 out of 10.