Apotop Wi-Reader DW09
Company: Carry Technology
Price: $79.99 on newegg.com. Curiously, not available on Carry Technology web site, or anywhere else I could find.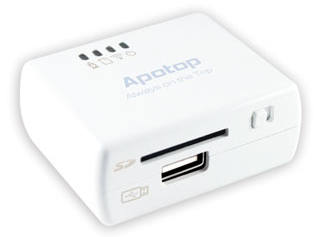 The Apotop Wi-Reader DW09 is a portable wireless reader/router that can help with iDevice storage capacity. It uses either USB flash drives or SD/SDHC/SDXC cards in FAT/FAT32/NFTS/exFAT file formats to transfer data to and from iPads or iPhones. No computer is needed. Think of it as your own personal storage cloud.
The main function of the Apotop Wi-Reader DW09 is a wireless card reader. Once the built-in battery is charged, the device is ready for use. First, download the free universal Wi-Reader app in the App Store. You'll use it to navigate through your files. Next, go to WiFi settings on your iDevice and choose Wi-Reader. Finally, insert a SD card or USB flash drive into the Apotop Wi-Reader DW09 and launch the Wi-Reader app.
The Apotop Wi-Reader DW09 supports data sharing with up to three devices at one time. I streamed two different videos on my iPad and iPhone simultaneously, a great solution when two people want to watch different videos at the same time. Streamed music played without a hiccup.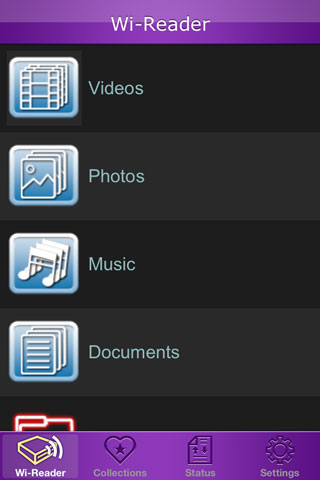 Data can be transferred to and from the iDevices. The process can be a little tricky to understand at first. For example, I wanted to save some photos to my iPad. The picture below shows the available options.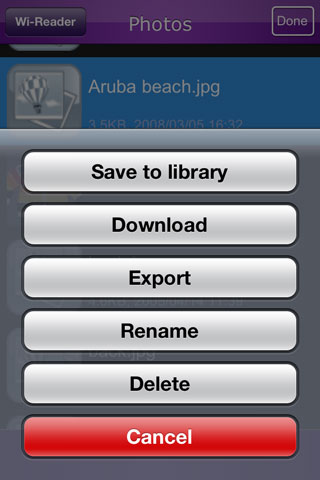 • Save to library saves the photo to the camera roll.
• Download sends the photo to a collection within the Wi-Reader app.
• Export gives users a choice of which app will open the file, based on apps installed on your device.
Files within Collections can be emailed or moved to other folders. Files stay on the iDevice and can be accessed whenever the Wi-Reader app is open.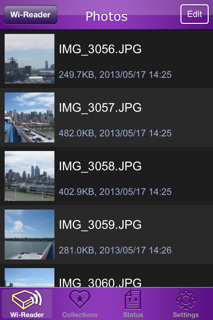 Unfortunately, the Apotop Wi-Reader DW09 doesn't recognize USB hard drives. According to the Carry Technology web site, the capacity of the Apotop Wi-Reader DW09 is 1100mAh, less than what's needed for a USB hard drive. The unit is made to work with flash drives, but for some unknown reason, the unusual shaped flash drives were never recognized.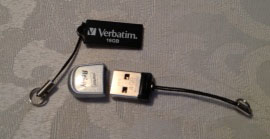 The other problem I had was setting up a wireless network connecting to my home wireless router. I followed the directions in the included Quick Guide, opening Safari on my iPad and answering the prompts. It didn't work. The new network accepted my router's password, then wouldn't let me sign back in. It also wouldn't let me try again after I reset the Apotop Wi-Reader DW09. User error? Possibly. After trying three times each on my iPad and iPhone, using both Safari and Chrome, I gave up. Your mileage may vary.
Using the Apotop Wi-Reader DW09 is a great way to save space on an iDevice, and can make a perfect companion for photographers. The built-in battery lasts three hours, and the Wi-Reader app is able to read/play a wide variety of files, including mp3, .rtf, .pdf, .pps, and .xls. It's very lightweight and doesn't take up much space in a bag or backpack.
When the Apotop Wi-Reader DW09 worked, it worked quite well. If it was easier to set up a wireless network, and could work with external USB hard drives, the Apotop Wi-Reader DW09 would be a must have.

MyMac.com Review Rating: 7 out of 10